Ivander Peps is a capeverdian artist, living in USA who brings his latest Afrobeats styled single, "Agolo" to the table. Afrobeats is a popular and energetic music genre that originated in Africa and has gained widespread popularity around the world. It is known for its catchy melodies, upbeat rhythms, and energetic beats. The genre is a fusion of various African music styles, such as fuji, highlife, and juju, with elements of hip hop, dancehall, and electronic music. Ivander Peps blends all these elements, smartly and subtly into this track, which turns out be a hypnotic and smooth mid-tempo banger.
The catchy melody and infectious beat makes it difficult not to want to move to the rhythm of "Agolo". The track will remind you of everything you love about afrobeats, as Ivander Peps rolls out his the smooth and mellifluous vocals, the earnest lyrics, and the power to convey strong emotions, while keeping a cool laidback demeanor.
This sounds like an effortless walk in the park for the singer-songwriter, who delivers most of his lines in a fluid conversational tone, which is a delightful croon on the ears. There's everything to love about this song, and it's a nice way to Introduce Ivander Peps to the general public. He is super-talented, arguably one of the few indie artists that could stand toe-to-toe with many of his more famous peers.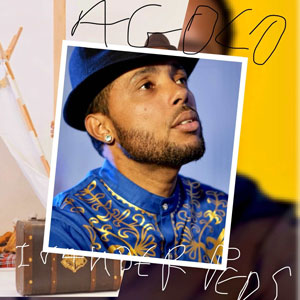 Ivander Peps is lyrically on target, and vocally he holds his own, and one thing is for certain, he knows how to deliver a great song. His arrangement of musical components like the hook, bridge, verses on "Agolo" is a joy to hear. This is a song of real quality and wonderful production too. Ivander Peps knows good beats, and the chances are high that when he releases a new song, he will deliver something listeners will want to blast on their speakers. This is true of "Agola".
Since his debut, Ivander Peps has consistently explored the space between the musical innovations of Cape Verde and those of his continental influences, pulling rhythms that underline the musical kinship between these various flavors. His has been a fast-moving and ever expanding musical evolution, showing the many ways of creating captivating songs in different styles.
All of which has led to the excellent "Agola", which shows how Ivander Peps has fine-tuned his sound for the international marketplace. He adds an enticing R&B flow to the track, as his voice bounces off the hip-swaying beat, lending balance to the skittering percussion, the jangling guitar, and the shimmering keys.  "Agola" has room for the past and future, as Ivander Peps continues in his mission to deliver intoxicating melodies and tones.
Ivander Peps' music is a conduit for self-expression with a will to emote, narrate, and build a connection with his audience. The singer-songwriter is busy building the foundations of his potential music empire for the coming years. With "Agola", Ivander Peps' consistency and skill is once again fully highlighted for all to see.
OFFICIAL LINKS: https://youtu.be/CtdFOxZnpMk
Please follow and like us: