HXRMER is a 21-year-old artist from South East England. His musical palette stretches from rap to alternative rock and from beatmaker to artist. His latest single is "Into Your Arms", produced by grayskies. There's an attitude in the singer's words and his vocal delivery, a zest about the guitar licks that feel grounded in punk as much as classic rock influences. It is the perfect storm of sounds in between, falling somewhere within a musical lineage that evokes some of the finest memories and moments of the 2000s alternative rock revolution.
Strip away all the guitar bombast and circumstance, play the record from start to finish and what you're left with is an artist at the peak of his considerable powers, right on the cusp of becoming bigger and better than he was before. It's the anticipation of a possible upcoming pinnacle that feels thrilling while on the rise. It's the process of ascension, by an artist striving to reach his goals. "Into Your Arms" is automatically better than it's predecessors, by the simple fact, that this single contains no fluff.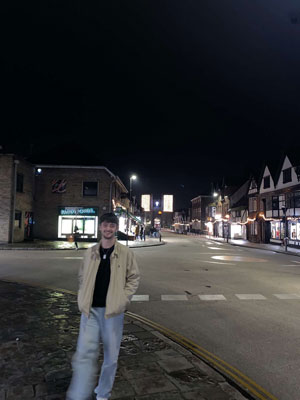 It cohesively, thrillingly and timelessly enhances HXRMER's overarching career moves. Here he sounds both comfortable and convincing. From beginning to end, this record has endless personality. The guitars crunch and jangle, while the vocals are at times dark and moody, before soaring into the choruses, all the while taking an emotional route. The production helps give this track a much bigger, much more atmospheric sound, and there's really not any wasted space sonically.
The song "Into Your Arms", is quite literally insane. The guitars just keep getting more and more intense as the song continues which leads to this incredible breakdown. And yes, HXRMER seems to mean every word he sings in this song, which provides a terrific evocation of the feelings the singer is trying to communicate. This is an excellent way of drawing in the listener for this journey of love and affliction. There's a melancholy glee to this track, which I absolutely love.
Everything about "Into Your Arms" is near perfect, and I'm sure most people will get to know this song word for word. No matter how much replay time it gets through, it remains a captivating track, being bombastic, theatrical, emotional, intense and impactful all at the same time. Despite the engaging musical backdrop, the star of this song for me, is HXRMER, whose vocals are fantastic at conveying the intense emotion of the song through a voice that resonates.
HXRMER shines, as he fully embodies the character of the song through his vocal performance. The instrumentation is beautifully cohesive with the narration, and manages to capture the crushing reality of the situation the singer finds himself in. Everything about this song is amazingly engrossing, as it avoids any songwriting or production complexities, which would otherwise suffocate the atmosphere and raw emotion at its core.
"Into Your Arms" is very different from the other tracks and beats I've heard from HXRMER, but it is a very powerful genre excursion by the artist. It's a musical path he should continue beating with conviction.
OFFICIAL LINKS: SOUNDCLOUD – YOUTUBE
Please follow and like us: