Over its years of evolution, the project of Florian Döppert (vocals, lyrics, saxophone, and keyboards), SOUTHDOGROCK has stretched itself musically, vocally and emotionally with a fair share of versatility. In fact, the much-lauded project has won awards in 7 categories at the German Rock and Pop Award competition. After garnering success with the singles "Old And Tired Dog", "Red Rose" and "Together", SOUTHDOGROCK bounce back with brand new single entitled "Great Big Love". A kind of homage to love, the song unfolds the beauty, strength and fragility of it's sentiments.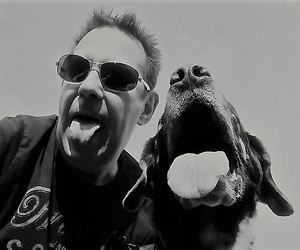 "The great big love comes in different styles, colors and flavors. It can hit you like a tsunami or touch you like a warm summer breeze," explains Florian. "The great big love is fragile. You can scare it away with a thoughtless word or action, and it can melt like lemon ice in the sunshine if you do not take care of it," he concludes.
It's interesting to note that Florian Döppert has found, and has stayed with his great big love, for 3 decades already. "This song is for all who have also found their great big love, or even those who have lost it again," says Florian. "Whatever happens, love will survive." One of the more inspiring and heart-warming trends that have developed as we attempt to navigate through these remarkably uncertain times is that of artists taking to spreading messages of love in its various guises.
Songs like "Great Big Love" provide a much-needed distraction in what has otherwise rapidly become a global show of harrowing reality. Musically, this single provides a strikingly accurate portrayal of what SOUTHDOGROCK still do best in 2022.
In addition to the resonant and polished vocals, the song also features robust production values, with a pristinely mixed recording, as well as the effective use of an organic-driven arrangement, adding to the depth, warmth and fullness of the track's overall sound.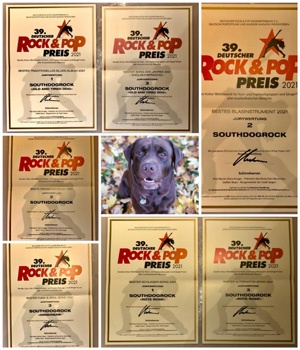 Breezy and groovy, the track features a catchy melody, along with a swampy guitar and organ riff. The drums slap out an intoxicating rhythm, while the layered backing vocals bring a nostalgic and harmonic swing to the proceedings. It is all topped off by some soulful saxophone interludes.
"Great Big Love" is not too far, from what you would expect a classic and scrupulous Steely Dan record to sound like. Those who know the impeccable songwriting chops of the 'Dan' will understand exactly what I mean.
Like Steely Dan, on "Great Big Love", SOUTHDOGROCK bring sophistication to rock n' roll, as they seek the same arranging and production thoughtfulness, the meticulous musicianship, the catchy hooks, and a song that sits right in the pocket of its groove. Moreover, the producer firmly understands SOUTHDOGROCK's dynamics, and allows room for the instrumentalists to breathe alongside the vocals and melody.
SOUTHDOGROCK flows from one musical note to another with bounding energy throughout "Great Big Love". There is no doubt in my mind that this the best studio recording by the project thus far. The single is an excellent addition to SOUTHDOGROCK discography, and one that can easily be recommended to both old and new fans alike.
OFFICIAL LINKS:
https://site.spinnup.com/southdogrock
https://www.instagram.com/_southdogrock_/?hl=de
https://www.youtube.com/channel/UCzrEnn1clUyDit5Dx1tqM-A
https://open.spotify.com/track/4n4WP31bILHTZH7LLC9mEh?si=mUPkFjGxQXuzADHWFW7DTA
https://apple.co/37KN8KW
https://www.gofundme.com/f/southdogrock-new-song-production
Please follow and like us: