Harboring a host of abilities that range from being a singer-songwriter and fashion designer, to video director and model, G DUBS was born in Canada with roots in New York City, by way of his Ghanaian heritage.  Over the last several months, he has released several videos including "Incredible", "Big Moreno", "No Kizzy", and "TSPD". His music is flavored with Hip-hop, R&B, and Pop stylings, while his modeling career has seen him work with brands such as Spotify, New Balance, TSN, WedLuxe Magazine and more. His single "Big Moreno" brings a mix of infectious sticky raps, and a dark, atmospheric, piano driven groove with skittering percussion.
G DUBS possesses all of the characteristics of a major player. He's an endearing artist, his lines are unusual and memorable, and his wiggly and intriguing vocal delivery is contagious. He has had a steady build-up over the last couple of years, and is well worth all the hype. The single, "Big Moreno", is full of some excellent highs. For one, the production by RobevnBeats is not only top-tier but remarkably individual.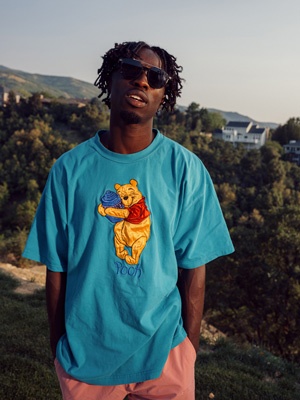 Through G DUBS' one-of-a-kind mesmeric voice and unpredictable delivery, listeners stay on the edge of their seats for the entire run time of "Big Moreno". In a sub-genre where contemporaries new and old are getting panned for bringing the same uninspired sounds and ideas to the table, G DUBS' sonic aesthetics seem all the better. His high-level artistry is dealt out in a casual almost conversational way.
The power of his vocal tones are subtle but commanding as he lays out the narrative. The understated charisma G DUBS brings to the table is like nothing else in hip-hop at the moment. His transcending voice meshes perfectly with the beat.
In an era where artists are stuffing features on their projects to boost interest and diversity, it's refreshing to see a rapper carry the torch by himself on "Big Moreno". G DUBS has so much character and spirit, its hard not to appreciate his work.
As the rap game oscillates between serious lyricism and mumbled memes, a balance must be met for the genre to continue on a steady path upward. It is refreshing when an artist like G DUBS takes initiative and attempts to blend the new generation and the new wave of rap with some of its essentials – wordplay, cadence and flow are all in place as he supplies vibrant lyrical pictures that hover majestically above the beat. "Big Moreno" is a great introduction to G DUBS, and, in extension, to how modern rap can still vibe and sound functional to the genre while doing it.
Like most artists in today's hip-hop landscape, a lot of G DUBS' appeal stems from his trendy, modern sound and relatable lyricism. "Big Moreno" certainly has all of those elements, but it also sees G DUBS flashing the potential for so much more to build on in the future, as he possesses all the necessary tools. He displays a surprisingly dense pen game, an undeniable sense of vibe and hordes of creativity.
OFFICIAL LINKS: YOUTUBE – SPOTIFY
Please follow and like us: