Eric Hausmann is very conceptual when he composes, unlike most of the musicians out there, and that's not good or bad, is just something he does. You just read the title and you will know what is about. His guitar creates some intense weaving sounds – very harmonious, very rhythmic, and very coherent. This is instrumental music, but the guitar lines are so melodic you wouldn't even notice the absence of vocals at first.
New age melancholy, electric guitar funk, endless post rock riffs that lift your psyche into the new purple haze, drifting into an oblivious world that no-one sees except those that mask their identity from things around them. Only to reveal themselves through the myriad movements of meta-fingers gliding across wood and steel to pull you into their contrasting views of those things that are us.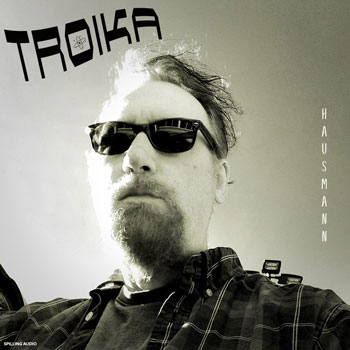 "Troika" is only 3 tracks and 10 minutes long – a gorgeous-to-listen-to EP that paints some glorious pictures and emotions without overstaying its welcome. Every song is well written and performed – an all instrumental EP which is put together in a way to transport the listener through various moods seamlessly…and quickly.
This is both clean and overdriven electric guitar playing, without the left field shredding or solo pyrotechnics. Not mainstream by any stretch of the imagination, but if you want to see what is out there beyond what the radio plays this is it.
"Troika" and Eric Hausmann veer toward Mogwai, Godspeed You! Black Emporer, and Explosions in The Sky sounding territory – only less pretentious and less echoey. There is no drawn out, ten minute, epic soft and loud arrangements.
Instead Hausmann cuts to the core with "School Haus" in just over 3 minutes. And when he really wants to dwindle and explore, he'll get the job done in less than five minutes, as on "Eight Days Out", totally dispelling any myths that instrumental music needs to be melodramatic, self-indulgent or pompously and extravagantly arranged to make any lasting impression on listeners.
Atmospheric and emotional are the keywords for Hausmann on the heavy-handed crunch of "A Dead Land", and yet again he slays the arrangement in under 3 minutes! Now if it may seem that I am overly obsessed by the duration of each track, that's because I am! I think this is a definite feather in the composer's cap.
To be concise, compact, and to the point in ambient instrumental music, is an arduous a task, as is capturing feelings and emotions in music. Intoxicating soundscapes and solid guitar work are molded into an original musical testament here on "Troika". Subdued, nuanced, elegant, and atmospheric when it needs to be. And bombastic, flaunting and portentous when it wants to be.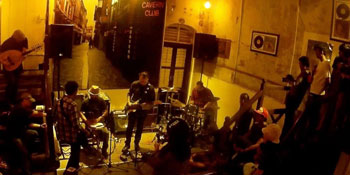 MORE ABOUT: Eric Hausmann began his musical training on violin, cello and trumpet at age six and started composing original music in his teens. With an obsession for writing and recording music spanning over three decades, Eric has appeared on dozens of albums, scored soundtracks and released several solo albums.
A multi-instrumentalist, his preferred musical tool is guitar, but he also displays an ability for numerous percussion styles, as well as electroacoustic sound design. During the late 80's Eric founded Spilling Audio, a cassette-only independent record label as a way to promote and distribute his original music, and to produce and collaborate with other artists.
OFFICIAL LINKS: BANDCAMP – SOUNDCLOUD – FACEBOOK – TWITTER
Please follow and like us: