Emerging from Exeter's vibrant music scene in the South West, Emma Lauran immersed herself in performing, writing and fashioning her own brand of heartfelt, determined pop. Inspired by the likes of Ellie Goulding, Jessie Ware and Skylar Grey, Emma continues to build momentum in London where she is currently collaborating with writers and producers. One of her latest releases is the single, "Little Too Much", produced by Peter James and Camden Clarke.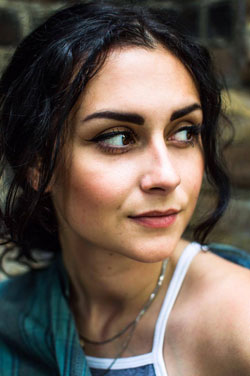 When pop works best, its mechanisms simultaneously glisten and vanish. The music becomes a tidy, irresistible package that delivers a burst of emotion — something so spectacularly impressive and immediate that it becomes more welcome with every return of the chorus. This is what Emma Lauran delivers with her latest single.
The lyrics revel in feelings of romance that is buffered by longing, desire, passion and ambivalence. The sweet and combative tone in her voice gives her enough of an edge to make an impression beyond the song's hooks, as she sings of love and attraction, almost as an addiction:
"I think I want you just a little too much. I said I shouldn't stay and I meant it. But you have a way of tempting me. You don't even know me yet, but I got something you want. I feel your eyes burn through my skin. The silence in your stare is deafening…"
The track seems to distill the pure essence of Emma Lauran writing, weaving subtle wit into her conversational lyrics. The smoldering beat pulses steadily and impassively behind Emma's precise and sensual vocal delivery, as verses, choruses and bridges arrive exactly where they're expected – making , a truly comfortable listening experience. This is pop professionalism meets passion entwined into a perfect balance.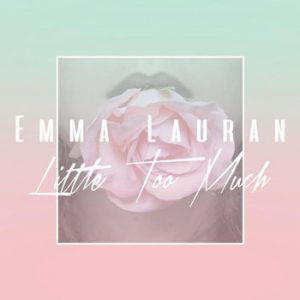 There is more, and I could go on, but I suggest you take a listen for yourself, because Emma Lauran's electro-pop is in a league of its own. She puts all of herself into her music, openly reckoning with consequences. While the track is understood as a meditation on our desiring and carnal connections to others, it strangely enough, should also be recognized as a song that questions the relationship we have with ourselves.
It's a universally accepted fact that music makes us feel things. You listen to a song and experience an emotion, whether that be happiness, sadness, hope, or a combination of all of the above and then some. With so much music out there, more often than not, the emotions experienced while listening to a track is the defining factor of whether that song will stick with you or not.
Songs that really and truly make you feel, are far and few between nowadays; having said that, "Little Too Much" is a song like that takes up permanent and prominent residence inside your brain.
OFFICIAL LINKS: SPOTIFY – ITUNES – AMAZON
SOCIAL MEDIA: FACEBOOK – INSTAGRAM – TWITTER – YOUTUBE – SOUNDCLOUD
Please follow and like us: