Taiwanese pianist, double stone, plays with eloquence, positively pushed by her artistic and spiritual instincts. Besides her phenomenal timbre and precision, she also can weave the pianissimo tones to a soft layer which wraps the listener and makes them float away. Many pianists play in a style that from time to time puts a spotlight on a specific part of their playing, which often breaks up the piece they're performing. double stone keeps the focus on the music, not herself, and strives to hold the narrative together cohesively. No histrionics just error free performances.
'Walking Instrument', is a series of piano improvisations which are recorded as singles and included into EP's. The first in the series is the "Better Than Wine" EP, which has drawn inspiration from Bible verses – specifically from Psalms 45 – and the pianist's personal journey.
Every phrase sounds natural and there's dramatic undercurrent that lends a feeling of expectation between the left and right hand. double stone has an inspiring technique, so she tackles every challenge with no sign of stress. But she doesn't simply run through the music either; she has a relaxed but commanding control and one feels she gives everything she has.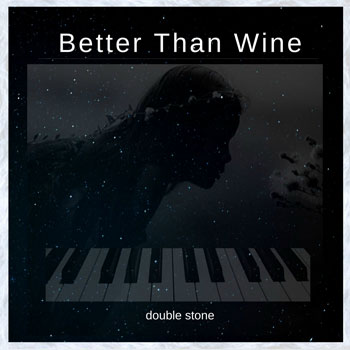 There's freedom in the phrasing of the title track, and single, "Better Than Wine", which makes the piece both whimsical and wistful without wearing on the listener's ear. double stone is as temperamental as the music demands, moving smoothly between feathery, evocative touches and more eruptive volatility.
Her weighting of the component parts of every texture is a marvel to behold as her left and right hand synchronicity eases her along. The sonic colors are strikingly pliant throughout the musical piece, assisted by subtle nuances of dynamics, tone and accent. double stone captures the music's flow in a work where subtlety of the rhythm and the ability to spin out those seamless lines of melody count for everything.
The many splendorous thing called improvisation is often the driving force behind those magical moments in which we discover layers of emotional meaning in music that is normally hidden from our ears in strictly pre-written and pre-conceived pieces.
It is this exciting act of relating the presence of the musical performance to a repository of musical ideas, concepts, and tropes that makes improvisation so central to our private and intimate experience of music. By moving music across the boundaries of convention and tradition improvisation constantly reinvents and questions our personal musical universe.
"Better Than Wine" not only interprets a musical universe, but also a spiritual universe. Not often do you come across a classically induced piano recording that truly represents the artist performing it, but this recording is the exception.
This single does not mean to represent a display of virtuosity as such, but rather an expressive interpretation of a spiritual theme in a way that is open, candid and immensely personal. There's an intimacy between the artist and the music that makes this performance so special.
Connect with double stone on FACEBOOK and INSTAGRAM
Please follow and like us: