Donald Sanchez King of Cali aka The Bedroom Closer was born in Los Angeles California to a Black mother and a Mexican father who both had mental issues. He joined a gang at the age of 13, and later met his girlfriend and partner in crime Vanessa aka MurderSheWrote. Donald is a welfare baby who dreams of one day becoming king of life. That' why it is important to him, to write and keep creative control of his music.
On the International Shooters Inc. label, Donald Sanchez currently has a 15 track mixtape out, entitled "King of Cali" which affronts his struggles as a welfare kid fighting for his throne in life.
Donald Sanchez King of Cali is on radio rotation with his brand new track called "Ginger Bread Girl".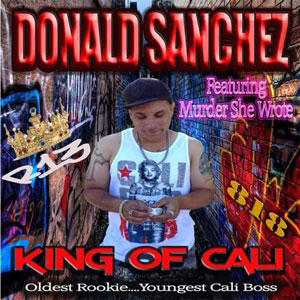 OFFICIAL LINKS:
SOUNDCLOUD: www.soundcloud.com/donald-sanchez
ITUNES: http://itunes.apple.com/album/id1513896194?ls=1&app=itunes
FACEBOOK: https://www.facebook.com/donald.sanchez3
Please follow and like us: