DJ Rebel has teamed up with his good friend Nick Dillinger to create the dance track "Live It Up", which signals his first release for 2018. The track truly delivers on all facets. Blending a new uplifting style with a patented melodic beat, the song has a sound for all. Incorporating an incredible female vocal collaboration, "Live It Up" will leave fans anxiously waiting for even more material from the Belgium dance music genius. With his knack for blending a heart-wrenching melody and shaking bass, with a shimmering keyboard DJ Rebel's production invokes an emotional response that few can achieve.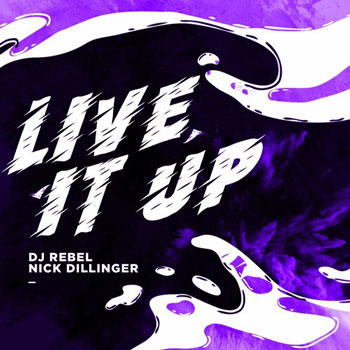 The echoing synth tones blended with the haunting voice is quite the pairing, giving way to a soaring, and effects filled chorus, followed by a steady breakdown. Featuring a bouncy beat, "Live It Up" offers a nice change of pace, creating an uplifting feel, injected with energy. This song moves you, and it sounds incredible on big stereo systems with powerful clean bass.
DJ Rebel and Nick Dillinger certainly know how to write a damn good dance song with a pop flavor, and "Live It Up" is a perfect example of their prowess. It's immediately memorable, the synth chords and vocals are superbly catchy, and the transition to the absolutely euphoric chorus is stunning. The pop hooks and anthemic effects set the song apart from its inefficiently maximalist peers: here is a song which uses every element efficiently to form something wonderful.
MORE ABOUT: DJ Rebel is one of Belgium's most qualified Dj's/Producers. He moves between varying styles which blend Hip-Hop, Trap, R&B and EDM, as well as Bigroom and House. His skills skills in scratching and CDJ techniques makes him the pioneer on Belgian ground and way beyond.
He was the only Belgian DJ nominated for an NRJ DJ Award in France next to Martin Garrix, Steve Aoki, Avicii, DJ Snake, Major lazor, and many more. He holds his residencies at major festivals such as Tomorrowland, Summerfestival (BE) and Laundry Day (BE).
In 2014 DJ Rebel released his massive monster hit "Black Pearl", which totaled more than 100.000 sales worldwide and exceeded 20 million views on YouTube. The huge success resulted in an international breakthrough with shows all over Europe. In 2016 another success followed with "Let Me Love You" by Dj Rebel & Mohombi feat. Shaggy.
Connect with DJ REBEL:
www.facebook.com/djrebelofficial
 www.instagram.com/djrebelofficial
Connect with NICK DILLINGER:
www.facebook.com/nickdillingerofficial
www.instagram.com/nick.dillinger
Please follow and like us: