Delta Station, is a 14 year old, who entered the music production scene in November 2016, and has recently put out his debut EP, "Electronic Fantasy". "What drove me to actually write the EP was a mix of things," Phillip comments. "A fair part of it was just the fun of writing music itself, but I had this desire to experiment, to create something unique – Making atmospheric liquid-esque tracks at unusually high speeds, for example. That was something I took a lot of pleasure from doing."
Whether stealing the thunder from his heroes is going to be possible or not is still too early to say, but Delta Station will certainly make a name for himself as one of the electronic or techno pace-setters of the modern day.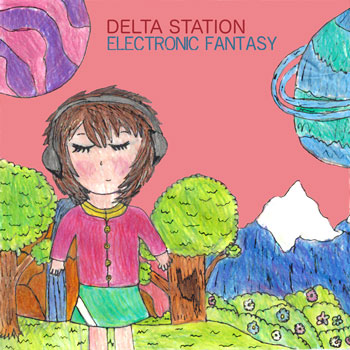 His expected electro-neon grooves are given light and shade courtesy of all manner of subtle ingredients. Indeed, much of Delta Station exuberant "Electronic Fantasy" set has a delicious, Mardi Gras feel – extremely playful and roller-coaster like, with ever-changing speeds.
This EP is, thankfully, the opposite of those tediously minimal and slow building type compositions. This is upbeat electro for the dance floor…and more.  A few seconds in and the beats are up and running as Delta Station works his way through the mixes. Often the beats are really pumping with a solid assortment of synths and washes changing and developing the arrangements and just plain keeping it interesting.
As technology continues to expand into the mental space of the musician at a rate which would have been unfathomable just a few years ago, the very act of DJing and Producing continues to be transformed and populated by younger craftsmen.
The central key is that, rather unsurprisingly, "Electronic Fantasy" is one of the more purely enjoyable electronic music records released in a terribly long time; vital by all means, but even more so considering who the source is. Its nonstop speed explosions are proficiently melodic with a fair bit of sonic chaos, inventive, inviting and plain old mind-massaging fun.
Delta Station's musicianship is undoubtedly interesting. His music lures you in with polyrhythmic spluttering beats unfolding into meshes of electro pop. Delta Station gallivants through every track with authority, like a bona fide traveller traipsing around his sound-world as if standing in front of a spinning globe, eyes crinkled with concentration, ready to go wherever his pointed finger lands. And they usually land on standouts like: "Electronic Fantasy", "Memories of a Long-Gone Childhood", "The Sweetest Dream" and "Imaginary Friends".
OFFICIAL LINKS: EP PREVIEW – SOUNDCLOUD – ITUNES – GOOGLE PLAY
Please follow and like us: