Courtney Govan is an independent Pop, Singer/Songwriter with over 350k followers on TikTok and is known for playing the Auditor on Fox's Hit New Musical Game show, "I Can See Your Voice".  Courtney's says that the ultimate goal in her career is to help everyone who comes across her music, feel, seen, safe, beautiful, sexy, powerful, but most importantly, unstoppable in the skin they are in. Her latest single 'Serotonin' recently dropped Friday 2/26. Courtney worked alongside Pascal Pahl (@producedbypascal) to produce and create a funky pop hybrid sound inspired by Kygo and Whitney Houston.
The track kicks off with Courtney Govan's high-pitched vocal twists. The crooning combination makes it seem like we've landed in sonic wonderland, where ecstasy meets audio. The electric pulsing beat starts to bubble under the vibe before igniting into a sustained groove – all combine to make for an outstanding entry to my speaker system.
For those just a little bit in the dark, Serotonin is the key hormone that stabilizes our mood, feelings of well-being, and happiness. This hormone impacts our entire body. It's the exact effect this song has on you. "Not where I been. It's where I'm going. Looking for my vibe. Wanna bathe myself in serotonin," Courtney sings on the hook, the first of many lyrics oozing with the desire and will for self-discovery and self-empowerment. It's an important topic about finding the strength to be who you are, and move forward, while loving yourself and being happy in the process. It opens a whole new world to how you see yourself and others, regardless of how they see you.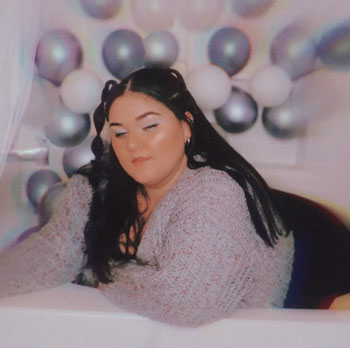 "I wrote this song as a response to my recently released EP, FEELINGS," explains Courtney. "I wanted to create something that not only made you get up and dance but also something that truly captured how important it is to go out and FIND your happiness. Whenever I get in my own way I am going to blast this song and sing it at the top of my lungs and I want my fans to do it right along with me!" she concludes.
Throughout the rest of 'Serotonin', we see Courtney Govan refining her style and forming a distinct image for herself as a future pop star. She truly deserves the stardom of her pop contemporaries. She has the presence, style and talent to compete with any of them, on any level. Her singing is immaculate, her production pristine. She performs with all the warmth and confidence of someone long-accustomed to the mechanisms of communication.
Honestly I expected nothing less, her powerhouse vocals and poignant songwriting nuances, promise nothing less. There's no denying that Courtney Govan deserves to be a card-carrying member of pop's current A-List.
Even putting all of her technical weapons aside, Courtney's appeal also lies in the unfiltered charisma that comes through her songs, and reaches the audience. She is about as authentic a talent as they come.
In a particularly hype-filled and manufactured industry, it's heartening to see a young upcoming star engaging with her audience on more than just a shallow surface level. Her songs are always searching for something deeper than just the cheap thrills. Courtney Govan offers reality and relatability in her music, which in turn demands attention and appreciation.
Talent and attitude, of course, is only half the battle: it takes phenomenal drive and discipline to maneuver the peeks and valleys, into the highest ranks of her craft. Particularly for female artists who find themselves at the sharp end of an unforgivably male-dominated industry. However, it's the sort of fiery and forcible dedication, I firmly believe Courtney Govan possesses. That much is perceivable in her voice alone.
OFFICIAL LINKS: TIKTOK – INSTAGRAM – TWITTER – YOUTUBE – FACEBOOK
Please follow and like us: