If there is one thing I can say about Country artist Cody Webb it's that he is consistent. His music is full of energy, insightful lyrics, great guitar riffs and heart. From track one through to six, on his self-titled EP Cody delivers all of this and more. In a world filled with constant uncertainty Cody Webb is just what the doctor ordered. The songs are full of fun, love, passion and hope.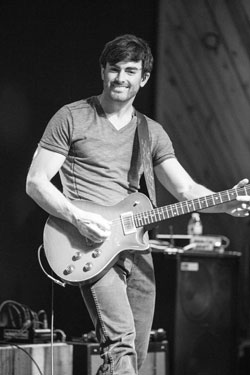 Cody lets us see his musical brilliance and his joyful heart right from the opening track "More Than A Little". This song will take you on an incredible journey, teaching you how to have a braver heart and learning to trust in love. Cody's vocal performances are impeccable in this EP and his straightforward gritty guitar playing will leave you breathless.
I'm not a big country fan, but have been greatly impressed by this recording. So much mainstream pop-rock music these days is either some over-produced mediocre young diva or low-fi adult album alternative, so whenever I hear something well written, produced and performed, I give it more than one listen.
And when an artist is able to forge a clever melody and superb vocal performance as can be heard on "My My My Girl", then I'm sold. Represented by RPM Management, this newcomer to the country scene has already acquired a large fan base across the country – Performing over two hundred shows in notable venues which include Wild Bills (Atlanta, GA), Moonshine Flats (San Diego, CA), the Tin Roof in Nashville, Miami, Indianapolis, Cincinnati and more.
If you've never heard of Cody Webb or his songs, you are really missing something wonderful. His songs are able to take you back to a first kiss with someone new, to not giving up on love and thanking the one you love. The songs are happy and witty. It will give you hope.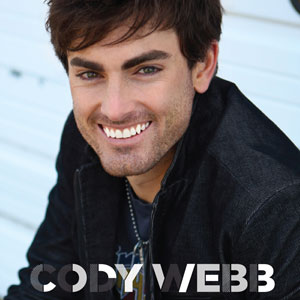 "Love Like I'm Gone" is guaranteed to spark a fire in your heart. This is another one of those songs which can be heard over and over again. Besides the catchy vocals and melody the track has a great musical arrangement which unfolds on each subsequent listening. Cody is also capable of putting together an acoustic-driven song that may appear to be simple, like "Nothin On You", but you know the process to get there was definitely not.
Every song sounds heart-felt and sincere here, and some even rise above, into anthemic territory. Case in point, "Better At Night", where the words roll off Cody's tongue so clear and crisp that you can't help but want to sing-along. But each song has its own life and it would be a shame to skip even one on the entire EP.
Each track describes different states of being, in a relationship – some serious, some tongue in cheek. Either way it makes your heart feel alive and ready to give love away. This is feel good music done with class and intelligence by a refreshingly new and talented young artist on the rise.
 OFFICIAL LINKS: WEBSITE – FACEBOOK – TWITTER – INSTAGRAM
Please follow and like us: