Broken Testimony is an alt-rock and metal group founded in the Upstate of South Carolina during 2016 by drummer Bryce Chism and lead guitarist and vocalist, Judge Page – both sixteen at the time. They are now a 4-piece ensemble playing multiple shows with both local and national acts throughout the Southeast after gaining two additional members; Justin King (bassist) and Nic Delvaux (rhythm guitar). Broken Testimony have shared the stage with Trapt, Devour The Day, Sons of Texas, Famous Last Words, Islander, Flaw, To Speak of Wolves, Silvertung, Shallowside, Wayland, October Rage, The Native Howl, and The Funeral Portrait. "Holding On To Nothing" is the title of the band's brand new full length album.
"Holding On To Nothing" takes what was learned from the "W.A.R – EP" runs with it to a much greater effect. It's the collaborative effort between the band members that maintains a consistently high standard throughout. When it's heavy, like on "Control", it's really bone-crushing heavy.
When it's less harsh and more melodic, as on "One Day", it's absolutely gorgeous. Broken Testimony wastes no time demonstrating this in their arrangements, going from a brief understated openings to slamming you into a wall of sonic excellence. Listen to how easily they achieve it on "Fade Away".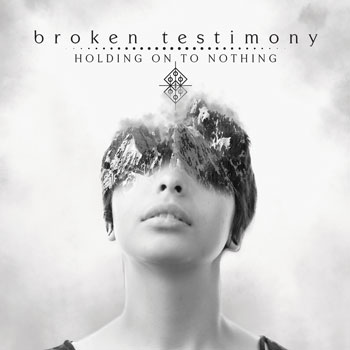 Sure the album is loud, but what else would you expect from a rock and metal band? But, it doesn't fall into a pit of heavily distorted compression that assaults your ears. The audio quality is clear, so it constantly begs you to turn it up. There usually tends to be at least a couple of songs that I skip on most albums, but that's not the case here.
There isn't a single bad track here. I was floored by the care and consistent attention to detail throughout the recording. The band has also been clever in including various interludes into the album to release the tension and pressure of the other high octane tracks.
Tracks 1, 5, 8 and 11 are cinematically inclined pieces created from a poem originally entitled 'Cigarettes on School Buses', that drummer Bryce Chism had written, offering just the right amount of breathing space between the other tracks.
"Blessing" one of the highlights, opens with a swinging snare pattern and bass riff which is accentuated by the bulging guitar riffs that come storming in. The song provides perfect changes of pace and heaviness as it pummels its way through the verses and choruses. Even the melodic vocals becomes a visceral growl.
"Medusa" gives listeners a nasty low end, soaring vocals by Judge Page , and another perfect blend of rough and clean moments, as well as the primal and nimble maneuvering of the wall to wall guitars. It digs deep into the essence of rhythm and melody, contrasting low-lying distorted vocals and gritty guitar work.
Each element fits together like a sonic jigsaw puzzle. Noteworthy is the chilling undertones of the opening bars on "Unknown" as it moves toward a haunting, almost mournful melody, and then into a driving, hard-hitting powerhouse chorus.
"Vitality", ripe with string ripping chords and riffs from Judge Page and Nic Delvaux, delivers a harmonically driven chorus, adding more fuel to the fire in the heavier domain that comes to dominate throughout this album. Making it clear that incendiary rock is still very much alive.
This is an all-round standout track instrumentally, with drummer Bryce Chism really showing off his playing chops alongside bassist Justin King. "Holding On To Nothing" is an album that will require quite a few sessions of cranking your speakers to appreciate the solid textures and soaring efforts of this talented quartet. If you are looking for an awesome alternative hard rock record, you have to pick this up.
SALES: PHYSICAL – ITUNES – GOOGLE PLAY
OFFICIAL LINKS: WEBSITE – FACEBOOK – TWITTER – INSTAGRAM – YOUTUBE – BANDSINTOWN
Please follow and like us: