Entirely self-produced, recorded, and performed at his home during the COVID-19 quarantine, "Little Secrets", is the debut solo album from indie singer-songwriter Brian Erickson, who has been making music for over a decade now – first with The Paper Jets, and then The Extensions. With repeated listens, keen, crisp and gentle tunes make lasting impressions on the ear, and an album of delicate clarity, full of rather beautiful songs begins to distinguish itself. Combined with the elegantly neat song structures, it becomes apparent that Brian Erickson's production techniques add textures that accentuate the substance of each song, encouraging and rewarding ever-closer listening.
The obvious attraction here lies in admiring Brian Erickson's artistic skill – from the songwriting, to the arrangements and the mellifluous vocals – but the greater pleasure is in the album's simple honesty: not pretentious in anyway, it feels as universal as it does personal. Brian's sonic catharsis is by turns infectious, therapeutic, poignant and ultimately rather heart-warming. A brilliant amalgam as dreamlike as it is earthly.
The music on "Little Secrets", is an uncanny introspective form of breezy; it takes you away to fantastical places, but it's extremely deep, very sincere and quite striking. The atmospheric songs swirl around Brian Erickson's tender all-embracing voice that sounds perfectly designed to sit alongside any organic sounding instrumentation.
The dynamics you hear on the songs contained in "Little Secrets", could easily belong to musical ventures from a legendary previous era. It certainly lends itself to a completely exciting and gorgeous record that never allows itself the excess of bombast.
In fact the keyword here, is restraint, as the album fulfils the listener the way music should. The songs don't jump out of the sound system and bang you over the head. Instead they draw you in, towards the singer and the song. You can't help but feel completely immersed in this music.
From the moment the jangling acoustic guitars introduce "Shore Towns" – a look back at pre-pandemic life in Erickson's adopted hometown of Asbury Park – the prose and musical poetry masterfully embed themselves in your conscience. Whilst always intimate, these songs are not sparse; the instrumentals lushly layered and delicately vibrant.
"All That We Could Be" and "Hit or Miss" are early prime examples of this fact. These songs feel honest and lived in, and there's a uniquely expansive texture folded into Brian Erickson's signature sound; full-bodied harmonies and resonating echoes chart exciting territory.
It helps, too, that Brian Erickson is an authentically controlled and graceful performer. There's nothing overtly demonstrative or showy about his performances. He weaves his way through "Another Unfinished Novel", initially a Paper Jets song written in the late 2000s, by then-guitarist Bill Lambusta,  the title track, "Little Secrets", and the mysterious "Sleeping At Jesse's House", allowing his voice to fly high.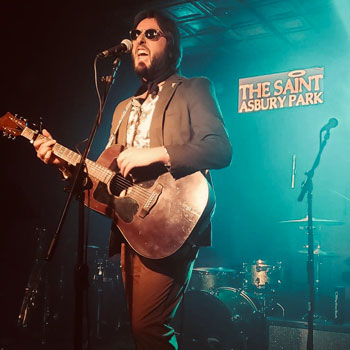 Hearing his impressive range and technique is disarming because of his impeccable restraint. Brian Erickson uses his voice like his instruments, and his words: all in service of the song. Moving forward, "Left To Find", "Mall Madness" and "Burning Bones" are arranged thoughtfully and steadily creep into your mindset. They hold on to the listener and gradually guide you through a world of characters and layered music.
By the time the album close down with the instrumental track, "Christmas in July", it is clear that Brian Erickson is far superior to the many copycats on the market right now. Whilst in many respects conforming to the singer-songwriter archetype, Brian's songwriting skill elevates him above the pack. In an era where songwriting pretension seems to have hit an all-time high, he offers a refreshing blast of understated radiance and sparkle.
The songs have zest, the pacing is superb, and the back half of the album is just as captivating as the front. "Little Secrets" is a concise, mature work and a stunning blend of thoughtfulness and skill. This is a perfect tonic to the hustle and bustle of modern life and presents an opportunity to stop and listen.
The album releases on 09.18.2020 via Mint 400 Records (digital) and Aqualung Records (physical). Brian Erickson will be hosting a virtual concert on the night of the album's release, so be sure to check it out.
OFFICIAL LINKS: SPOTIFY – YOUTUBE – INSTAGRAM – BANDCAMP
Please follow and like us: