The track "Only One" positions Billy Roberts and the Rough Riders in a comfortable pocket: one foot in a cowboy boot, the other one in a sneaker and enough quirky proclivities to make your heart skip a beat and your mind fly off on a nostalgic time-trip. The opening swirling piano could cue an '80s Heartland rock montage before it settles into an mid-tempo Americana power anthem buoyed by crunching guitars. On "Only One", not only does Roberts refuse to let an incredibly tight track unravel and tangle, but his craft reflects a songwriter who understands how to make each line count and earn his indulgences.
It's the brutal honesty with which he charts his own course that will make "Only One" a guide, or at least a shoulder, to others. It's a track glorifying the great love that got away. It's a wounded but mature record that understands why things have run their course, and his part in making a relationship end. But he also knows that the girl was the only one he ever wanted, and that maybe he did not make her understand that quite enough at the time.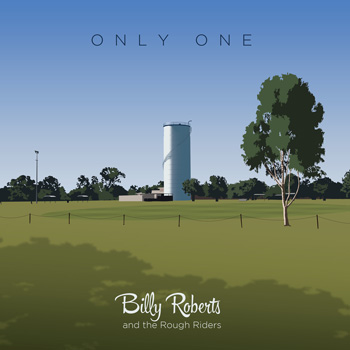 Roberts' vocals and lyrical tics are so well established that any genre or sound bends to his will. But what he truly excels at is documenting and dissecting failed relationships. Featuring Alex Quinn on Lead Guitar and  Rory Facione on Drums, "Only One", is soaked in reverb and chorus, radiating the best of the '80s at nearly every turn.
Fans and critics alike will be quick to point out the undeniable comparisons of Roberts' vocals and the record's production to the likes of Tom Petty and Bruce Springsteen, and nowhere is that more obvious than on the choruses.
When the track starts, close your eyes and you'll swear you're listening to a never-before-heard Springsteen 7-inch, not a new track from one of the most prolific, independent, alt-country and rock singer-songwriters of the 21st century.
Throughout the new track, Billy Roberts is at his best and his most brutally honest. He manages to dust off his heart, toss it on his sleeve, and continue playing the part of a prison warden in love with the prisoner he allowed to get away.
Whether fans are drawn to "Only One" because of the raw and pristine Heartland sound or the wide-open, unobstructed look inside the singer's heart—or both—they'll be greeted with a quintessential Billy Roberts and the Rough Riders recording from start to finish.
OFFICIAL LINKS: Artist Website – Reverbnation – Bandcamp – YouTube
Please follow and like us: