At once menacing and comforting, the sonically dark and adventurous "Cold War Pop" album represents some of Alien Skin's finest moments on record. "Timeline wise I refer to the crossover years of the late 1970s into early 1980s. Of an iron curtain divided Berlin and London in a winter of discontent, explains Alien Skin, on the footnote of the album teaser. "The Bowie-Eno by the Wall era meshed with Germanic elektro-pop, musically informed much of what developed within this 5 or so year period." For all of the angst and turmoil of those years, "Cold War Pop" culminates into one of Alien Skin's most cohesive and impacting sets.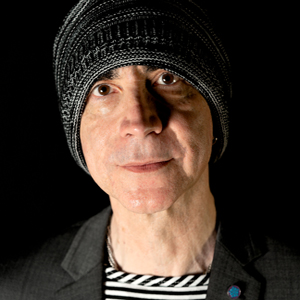 With someone like George Pappas alias Alien Skin – owing to a career that arguably peaked back in the '80s, when he topped the charts with Australian band Real Life – making yourself stand out more than forty years later is no easy feat. Yet Alien Skin makes it feel naturally easy. With "Cold War Pop", his resurgence continues with even more pulsating electro beats and behemoth sounding melodies.
Choruses such as those in  the opening tracks, "Cold War Pop", and "My Machine", flawlessly showcase Alien Skin's ability to marry both melody and power; with neither forfeiting for the other. Moreover, he manages to create more than just simple sounds – instead, there's an idea that the big picture in his songs is far bigger than you'd ever care to realize. Moving forward, Alien Skin's work remains consistently fascinating.
The synth-pop and darkwave sounds that's worn throughout this album, perfectly encapsulates the 80's landscape Alien Skin cites in his previously mentioned footnotes. In fact, with such a focused artistic mind pulling out realistic musical scenarios, it's hard to not get completely encapsulated by the album. And what better way to do it than with the catchy and poignant "Someone With Your Name", and the driving synth crunch of "I Say I Do But".
The beautiful and sweeping slow burn of "West Berlin Or Die Trying" renders a stunning vocal and lyrical performance by Alien Skin, in song filled with hope and courage. This is followed by the faster "Charlie Bravo Safehouse (Ost Berlin)".
Steady but with intensely vibrating synths, the song fights itself through the resonating basslines that is the setting of this sonic experience. "Fad Gadget" forges a similar upbeat formula, which pushes the whole album a good way forward.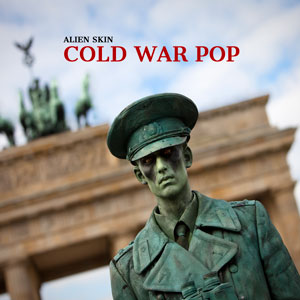 Icy atmospheric textures and cool bass grooves can be found lurking under the bouncy exterior of "Shooting Of A Bricklayer", while "I'm In Love With CWSP" builds itself on a thumping four-to-the-floor bass drum kick.
Distortion is wonderfully used as "I Might As Well Be Dead" drives its rhythm underneath the airy melodic lead vocal. Alien Skin has constructed these songs into an epic narrative – one that he admits in the liner notes and in the album title.
"Cold War Pop" is a synth-pop and darkwave masterpiece that will long stay unequaled. This is such a well put together album, an amazing piece of electronic music that revels in its 80's sensibilities and aesthetic.
For me personally, this is one of the best Alien Skin albums ever. A must-buy for all Alien Skin fans, and a definitive recommendation for everyone with a hint of nostalgia and a love for synth-driven music.
OFFICIAL LINKS: WEBSITE – FACEBOOK
Please follow and like us: