"10 Reasons Why" is a sumptuously accomplished and mature track which slots seamlessly into Alexa Cabral's flawless flow of pop releases since 2018's "Summertime" single. Beyond her ability to faithfully translate the permeating zeitgeist of her narrative, what is most striking about the new single, is the internal logic, consistency and density of her songwriting. This track is not a fragmentary timeline of ideas and thoughts but an uncompromising and obsessively fine-tuned project. "10 Reasons Why" gets so much done in such an unfathomably short space of time.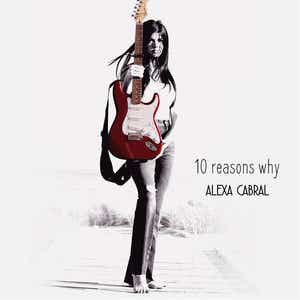 There is a beguiling laser focus that rips through the entire track; from the impressionistic lyrical delivery that oscillates with a blue-printed rhythmic certainty – starting quietly, but quickly building into an assured and granular production which purifies itself throughout the record with the choppy hi-hats and washed-out synths. Above it all, Alexa Cabral's crystal clear voice resonates with emotional nuance as she unfolds her 10 reasons why.
"10 Reasons Why" unpacks a list of bothersome relationship intricacies that will put a world of fans right on her wavelength. It has some very clear highs, mixing a fine compound of sweet and bitter lyrical tones with an indelible melody.
The song is interpreted fluidly, never sounding anything less than glossy and full, and Alexa can write a gargantuan pop hook in her sleep. Moreover, the track shows Alexa's flair for writing songs that express personal experiences with the unguarded honesty of a diary entry.
The lyrical study of sentimental afflictions and raw emotion on "10 Reasons Why", lives up to lofty expectations. At the same time, the song is loaded with a set of sparkling sounds, eschewing useless noise, and allowing the melody and message to rise to the top. Making it the quintessential modern pop creation – a structurally solid and thematically thorough track, grasping at the connection with its narrator's emotions.
On "10 Reasons Why", Alexa Cabral's candidly explores her feelings, and rationalizes her motivation with a list of undeniable facts. She has a knack for crafting pop songs that exalt her honest, to-the-point, songwriting, and this track is no different.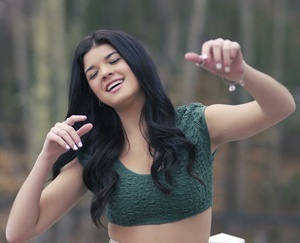 In fact she's startlingly straightforward about what she expects, and doesn't, from someone involved in the sentimental sphere of her life. It's the kind of matured clarity you wouldn't expect from such a young singer-songwriter.
Alexa Cabral is a 16-year-old singer-songwriter from Boston, MA. She has been performing since she was a young teen, participating in the All You Got Tour for two seasons, and Performers on the Go events. She's been in shows all over New England. She recently she made it to the finals for the singer-songwriter "Back to Live series", taking place at Loretta's Last Call summer 2021.
In her early teens, she was the winner of the Young Performers Club youth talent event at the Boston Hard Rock Café. In May 2020 she performed in an international live stream benefit concert for International Nurses Day to raise donations for essential equipment for nurses around the world.
Alexa Cabral's music makes for stirring and immediate listening experiences, and each song takes you on an emotional rollercoaster ride.  "10 Reasons Why", is a simply the next chapter in an ongoing series of absolute musical gems, by a precocious talent.
OFFICIAL LINKS:
https://www.facebook.com/alexacabralmusic/
https://www.instagram.com/alexacabralofficial/
https://www.youtube.com/channel/UCrhWZTcpGq7vBU-aYMlCWEQ
https://alexacabral.bandcamp.com/releases
https://open.spotify.com/artist/3mFiLw3wx5bVwl8RJpLb7l
Please follow and like us: