Based in New York City, ALDEN released his debut EP "Arms and Legs" back in January 2017 followed by his single "Red Hands" the following summer. His latest release, the single "It Won't Stop" (out November 2), showcases his unique blend of lo-fi Alt-Rock and harder Desert Rock sound, with the backing of studio production. ALDEN makes a powerful statement on this track. Understated jangling hypnotic riffs predominate, combing with the singer-songwriter's lilting vocals to create a mesmerizing atmosphere that works equally well as a mood-inducing backdrop or a slow burning head-bobbing rhythm. It doesn't assault the senses with wild abandon, but rather relentlessly drills its way deep into the bone. It is driving and intense, but slow and relaxed…all at the same time. Whether it's through a good set of cans in your bedroom, or the stereo in your car, this should be going everywhere you go for quite some time.
"It Won't Stop" as a whole, puts you in a sort of trance, and is just sonic ecstasy. It's controlled and chilling, but it's pure genius, and pure rock at its core, and in its attitude. There has to be melody of course, and ALDEN has the voice to support melodies substantially sweeter and suppler than rock normally deals with.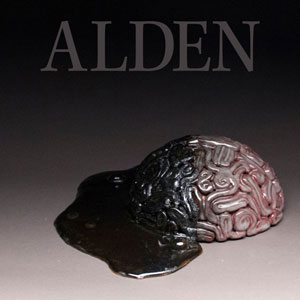 ALDEN is a smart alternative kid with a sardonic vision and distinct melodic sensibility that permeates every sonic landscape he traverses. And he covers a lot of miles. "It Won't Stop" is possessed of a brooding, mellifluous, magical vocal tone, melodic sense and stony vibe, placing ALDEN among the underground kingpins of the desert rock genre.
Many bands working the genre, search hard to find that that mystical spirit of what's been created here on this track. If there's one defining factor that links from one song to the next, it's ALDEN's curiosity for uncovering new sounds and textures.
One minute he's lashing grinding grunge grooves, the next he's building towering slabs of rock noise, only to shower it with psychedelia and watch it dissolve into an acid alt-rock weirdness. He also knows when to move on. As he promptly does on "It Won't Stop", which is more all-embracing and appealing than anything he has done before. Showing that he is an astute songwriter of real merit.
ALDEN is an artist that seeks for lyrical significance, as well as the production clarity that lets his legible thoughts on the cycle of life come powerfully to the fore. With something very dark and melancholy lurking in the background, "It Won't Stop", will draw you deep into the artist's vision.
The soundscape gurgles and squelches beneath the surface to create a sense of creepiness and dread before it explodes into a narcotic percussive waltz. ALDEN is also in remarkably fine voice throughout as he delivers a performance that is by turns tender, yearning and seeking to make some kind of sense of the disturbing narrative.
"It Won't Stop" fuses the best elements of the unique crossover blend that ALDEN is carving out. It's a richly dynamic and satisfying niche for himself, and, by extension, also for us.
OFFICIAL LINKS: WEBSITE – SOUNDCLOUD – TWITTER – INSTAGRAM
Please follow and like us: