1900-114 is a rock band based in Santiago, Chile. Influences are hard rock and heavy metal. Formed by high school classmates, the name of the band originates from a printing error on the back of their 1994 class' hoodie. They had it printed as MCMCXIV, which in effect, reads 1900114, instead of 1994.
The band's debut EP is entitled "Sin Amodor," which contains songs about memorable situations regarding their classmates. The EP rocks with clear vocals, lots of harmonies, melodic rhythms and tons of guitar riffs. These songs will have you stomping your feet and pumping your fists in the air from the opening cut. Letting you know you are in for one hell of a ride.
The album, "Sin Amodor" is chock-full of hard rock swagger, racy lyrics (from the very little that I can understand) and a big sound.  Federico Ghio's dynamic voice dominates the EP, but Alejandro Ortiz-Bernardin's raging riffs and solos, as well as the tough-as-nails bass guitar by Felipe Lagos, and the thumping drums by Alex Waghorn are also a huge part of this cool rock band.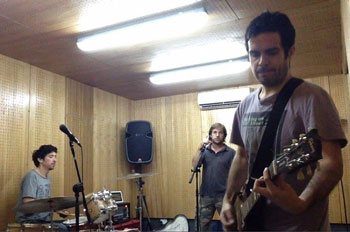 Among the rockers, the surprise on this EP might be the gentler tune, "Turquesa", which has a harmonic and sensitive soul.
"Sin Amodor" leads off this EP like a runaway train, and the song's confident style, slithering riffs and overall immediacy is the perfect introduction to the equally in-your-face tactics of "Lothar". The EP's highpoint is assured with the pumping rhythm of "Saltar", which also boasts a snaky guitar solo.
These songs are undeniable proof that this band has lived up to its potential and blizzard of hype. Each tune is loaded with a huge rock and roll sound: larger-than-life riffs, blazing guitar solos, heavy rhythm guitar, booming bass and Federico Ghio's chameleon-like voice splattered all over the place. These four guys, when playing together, are human jukeboxes who seem to have an unlimited supply of energy to choose from.
My very first impression was that 1900-114 sound crisp and tight, playing as a unit rather than everyone separately playing their part. Rather than having every song feature just tasty hooks and licks, they also explore melodies while still delivering rock solid grooves, and the results are vibrant, and at times purely breathtaking.
All of the songs are perfect in length too, none too long and drawn out, but none too short and choppy either, averaging out around three and a half minutes, except for  "Turquesa", which is just over 5 minutes long.  It's safe to say that "Sin Amodor" has far exceeded all expectations.
My only gripe being that I don't speak Spanish, so I had to waiver on most of the lyrics, which would have added that extra dimension to this music. But even if you don't understand the lyrics, just do what I've done – roll down the windows and turn it up. Eventually somebody will explain it to you!
OFFICIAL LINKS: WEBSITE – FACEBOOK – SPOTIFY – ITUNES – AMAZON
Please follow and like us: