Matilda Sandh is a singer-songwriter from Stockholm, Sweden. She loves writing lyrics and melancholic music. Matilda started writing a year ago and has already been recognized among the Scandinavian press as an upcoming and promising artist.
The song "Allt är så vackert" (a rough translation would be "Everything is so beautiful"), is about breaking out of your current life pattern and making new choices. No matter how hard these changes will affect your life. The song is produced by the Norwegian production team Lars Erik Schjerpen and Andre Myhren.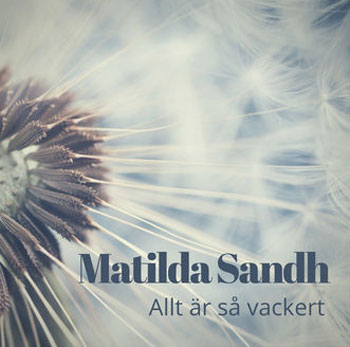 Music is therapy, and Matilda Sandh apparently has a lot of emotion to work through. I say apparently because I don't speak Swedish and don't have a lyric sheet to translate. So I am totally dependent on Matilda's vocal timbre and nuances.
I feel there is heart and authenticity in her gently understated performance. The arrangement is gorgeous and hauntingly beautiful. Melodic and organically driven, the soundscape tends to hook and slowly draw you in, aided by lush harmonies, a warm keyboard and a picked acoustic guitar.
Listening to "Allt är så vackert" is akin to welcoming a long lost little sister back home, and listening to her gentle lament while sitting on the porch front on a warm summer's night sipping lemon iced. Matilda Sandh's valiant, vulnerable voice eases you into transcendence like crackling maple syrup.
From her performance I can easily assume that Matilda is a genuine storyteller and her originality is poetic, authentic, and open. She exemplifies Lao Tzu's concept of 'the soft overcomes the hard, the gentle overcomes the rigid.' Everyone knows this is true, but few can put it into practice.
"Allt är så vackert" is finely crafted, both in its songwriting and production with excellent musicianship from all corners, and Matilda Sandh being the sparkling center of attention. Her vocals are diverse from the spirited waif-like coos to the deep poetics, to the lilts and lulls, and so much in between.
Please follow and like us: