Miles Casella feat. Ben Bryan will be performing live on Saturday 21 January At THE WILLOW New Orleans. There will also be performances by BLACC GHOS, Cloud Skilly, Fenxx & Guests.
Show starts at: 6:30pm
Tickets are $12.00 dollars each
Show is located at:
The Willow Uptown
8200 Willow Street, New Orleans, Louisiana 70118
Google directions:
https://maps.google.com/maps?oe=UTF-8&hl=en-us&client=safari&um=1&ie=UTF-8&fb=1&gl=us&entry=s&sa=X&ftid=0x8620a5153d9e679d:0x9cdec2fbf8027c26&gmm=CgIgAQ%3D%3D
Ticket Link:
http://aftonshows.com/MilesCasella
Miles Casella is a Hip-Hop artist from Baton Rouge, LA. Miles'
 music consists of a clash of Hip-Hop/Jazz/and Blues to create an interesting style that is truly unique to his own. Come out to his show to see just how unique his sound really is.
Miles Casella – Hey Fine (official video)
OFFICIAL LINKS: REVERBNATION – FACEBOOK – TWITTER – INSTAGRAM – SOUNDCLOUD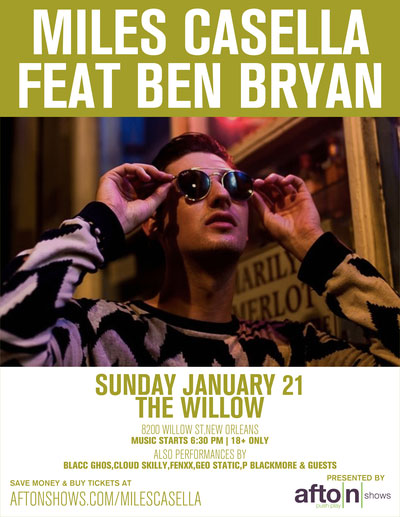 Please follow and like us: