Garry George Wilkes is a musician from Portland, OR. He is fluent in many musical genres including pop, rock, classical and music for ballet. Many of his recordings have been compared to the Beatles. His latest single "It's Not Real" was inspired by his own experiences with romantic love. The song deals with the feelings a couple experience when they realize the spark is gone from their long term relationship. Wilkes seems intent on pushing at the borders between modern pop and rock and classic melodic sounds that belong to a long gone era. His charmingly amorphous and easy to grasp chord progressions are captivating in their warm harmonics, while the song's surface-level simplicity only serves to highlight how clever a songwriter he is.
The best moments of "It's Not Real" feel sort of like sleepwalking, linking together fragmented emotions and shattered scenes with vaporous chord and a thick reverb mist. That's why it makes sense for Garry George Wilkes to have cosmic strings, rich piano dirges, and heavenly basslines within the track.
When was the last time a daydream made as much sense as this? The lyrical images follow the same kind of fuzzy logic and slippery quality. The surreal images pile higher until, at the song's pillowy climaxes, Wilkes deliver an explanation: "It's not real. It's not real anymore."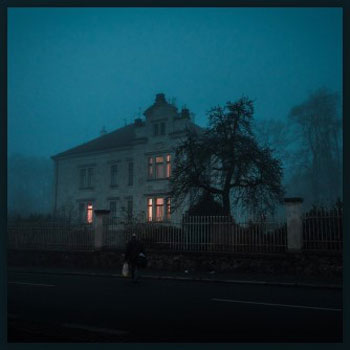 The narrative structure of emotional reveries can often feel unsettling, but throughout, Wilkes use foggy images and slippery transitions as a soothing sort of déjà vu—you feel like you've been here before, even though you obviously haven't. "It's Not Real" sort of feels familiar.
But Wilkes' music is so great because it feels like something you'd heard before—a distant memory of rock records long since forgotten. As a stripped return to the past, Garry George Wilkes may very well be the most comfortingly authentic retro rock songwriter I've heard in recent times.
It's no secret that rock finds itself in dire straits these days due to a lack of innovation. While the genre's roots are alive and evident, contemporary artists are electing to show flashes of it in their pop or metal rather than playing a traditional, and melodic sound.
"It's Not Real" does serve as an excellent example of what a great melodic rock record should sound like. Wilkes has all the poppy, incandescent tones and beautiful, eerie melodies that have long made the genre accessible to the masses.
In fact Garry George Wilkes often reminds me of Jeff Lynne and the Electric Light Orchestra. ELO also had many traits that were inherent to The Beatles music, plus they were efficiently creative at elaborating larger more complex orchestral soundscapes into their accessible pop-rock songs.
Something that Wilkes too, excels at. "It's Not Real" captures an artist effortlessly crafting deep atmospheres and dream-like pop-rock qualities with a unique nod to the past. Wilkes delivers nearly everything nostalgic pop-rock fans want: familiarity, melody, and vast atmospheres to get lost in.
OFFICIAL LINKS: MUSIC STREAMS – ITUNES
Please follow and like us: