International singer, songwriter, actor and model, Andy Magro, is an artist with a fierce determination to make a positive difference in this world. Armed with a new EP debut album, "Never Stop Dreaming," and a new charity organization, "United for Charity," he is working towards achieving just that. Fifty percent of all sales revenue are being channeled through his charity. The proceeds are forwarded to multiple charities throughout the world benefitting everything from environmental causes to helping people in areas that are struck by catastrophic events. "My goal is to raise awareness about different kinds of charity needs," said Magro. "We need people to help protect nature, endangered animals, our environment, the ocean, our drinking water, or even providing homeless kids a home." A persistent philanthropist Magro is also a supporter of SaveTigersNow.org, a global campaign dedicated to saving tigers from extinction, which is headed by World Wildlife Fund (WWF) and the award-winning actor Leonardo DiCaprio.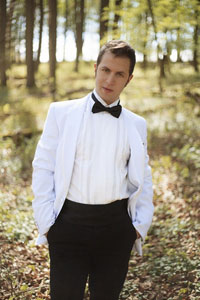 Andy Magro got his start in the world of acting when at 13 years old he established his own drama/film class at his school. Since then, he has spread his wings to encompass many aspects of the entertainment industry. His first break arrived when acclaimed movie director David Cronenberg hired him for a supporting role in the feature film 'A Dangerous Method', starring Keira Knightley, Viggo Mortensen and Michael Fassbender.
Based in Europe he has appeared in numerous German feature films, TV shows and series, short films, commercials and print ads. He is also an affirmed model who has fronted many important brands.
But Andy Magro's love for the entertainment world also stretches out to music. Hence the release of his 4 track EP, "Never Stop Dreaming", which features a song sung entirely in Italian, entitled "Per Sempre". Listening to the EP, it is clear that his music has all the attributes to attract a wide following of supporters from just about any age group.
Andy's music is melodic, clean and rhythmic, with a very broad international pop sound. The month of June has somehow turned into a banner one for releases from young, good-looking, sensitive singer-songwriters blessed with awesome voices and charisma.
Like his famous contemporaries, Andy Magro has a knack for pop hooks, but with a sweeter, smoother and more soulful vibe. On the sensitive scale, Magro might actually beat the lot: This multi-talented entertainer is more introspective and yearning than the rest, and he proves it brilliantly on the sprawling, and eloquently beautiful mid-tempo ballad, "You & Me".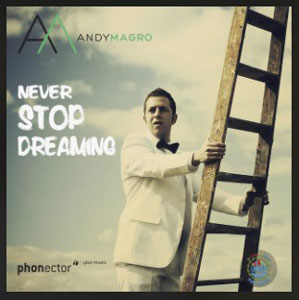 There's a specific sincerity that Andy brings to his tracks that his pop peers don't necessarily deliver on when they make the same attempt. With "I Will Never Let You Go", the singer moves between relationship virtues and woes while keeping it very personal and relatable, avoiding any cryptic lyricism and going straight for the heart.
Andy Magro makes the kind of pop music many parents might enjoy just as much as their kids do, versatile but lusciously straitlaced arrangements that often veer into adult contemporary territory. Listen to the smooth EP opener, "No Turning Back", where Andy moves effortlessly between melodic singing and rapping verses.
That's how versatile he is. And then he finally closes the four track recording, with the up-tempo Italian love-song, "Per Sempre". From the beginning, it's clear we're getting a colorful and enthralling song steeped in passion.
All Andy Magro's songs are full of hooks and they stick in your brain, and none of them overstays their welcome. They come, they dive into your brain immediately and stay there. Whish says a lot, considering that he is the songwriter too.
Like all the best pop stars, Andy plays beautifully to the comforts of his voice. When an artist can express themselves so honestly not only in one song but on an entire EP, it leaves a positive impact on everyone. It's true what Andy Magro says: we should "Never Stop Dreaming", he hasn't!
OFFICIAL LINK: www.andymagro.com
Please follow and like us: