For those who don't know who Aaron Hart is, he is the lead singer for the explosive Glam Rock band, Love Stallion, formed by himself and Crayton Huntly (aka Rob McLemore). For second Aaron has stepped out of his euphoric hard rock shoes and into his softer balladeering slippers, on his solo EP "Valentine".  This recording is a whole lot different to his work with the group, but in the best possible way. "Valentine" is an EP with both a warm and a stripped down acoustic piano sound that suits Hart's voice, which is both crystal clear and strong and leaves you with a feeling of being in a place you don't ever want to leave again. His voice simply sounds like returning home. This is a raw personal statement from one of the best rock artists and vocalists of recent times I can remember.
Sounds strange to say it out loud, but here Hart is arguably the modern day incarnation of the rock troubadour – albeit with a gorgeous unique voice to match his strong lyrical compositions. Alternately poetic tales of haunting despair and loneliness, expression of hope and love within arm's reach, like warming rays of a resurgent sun trying to burn through the autumn morning haze. The hooks are more subdued, and the vocal melodies less both soaring, yet extremely intimate.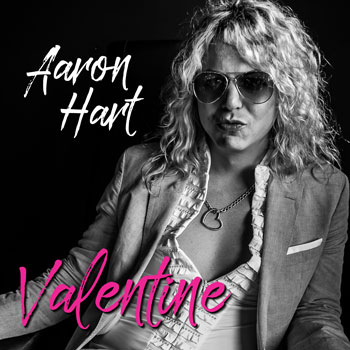 Walking through the city playing "Valentine" through head phones, it's hard not to guess that 99% of those I pass, do not know the greatness playing in my ears. On a recording like this, Aaron Hart reaches for a new ground, perhaps best defined by its warm comfort, as he reconnects with his inner singer-songwriter self.
Which is not to say that he necessarily sounds too much like a classic singer-songwriter: he simply ditches possible distractions and finds strengths in his newfound sense of intimacy and individuality. Unquestionably, the vocalist always had a tender side to him, as he rarely shies away from deep confessional-type lyricism.
Though with Love Stallion Hart has the power of a full rock band behind him, the sound never outshines his presence – however the stripped-down approach to instrumentation on this recording seems like an opportunity for his voice and lyrics to take center stage on an even more significant level.
And, undeniably, it's a setting he relishes on. From the moment he opens with "Green Light" Hart's voice seems disinterested in the showiness, trying instead to extend its range and find a fairly comfortable zone to exercise its captivating charm, his emotional delivery sounding as delicate and gracious as catching up with an old friend.
On "Fairytales" he is a more cautious and reflective individual than before, and there's an almost tangible element of profoundness to his lyrics. Hart always tries to look for a light at the end of tunnel, in hopes that not all is as bad as it seems, his voice scaling into falsetto with uncanny ease.
And the uplifting belief he tries to gather is also all the more contagious to listeners every time they put this on. The EP closes with the beautifully eloquent title track – "Valentine". Aaron Hart's vocals, like on every single song on this recording, are top notch. He truly is one of the best singers in the music business right now.
"Valentine" is one of those recordings that you can listen to sad, happy, or just in between…and at the end you will feel what Aaron Hart is feeling. And therein lies the beauty of this solo work my friends.
OFFICIAL LINKS: WEBSITE – FACEBOOK – TWITTER – YOUTUBE
Please follow and like us: