Rapper Twizm Whyte Piece Aka T.w.p.'s music has always been about his life. His songs are usually very personal, with a specific theme which is easy to catch. His songs are very atmospheric whether they are hard-hitting or slow burning.  Those facts continue in his latest album "TWP 3:16", where he sings or raps about various occurrences or feelings in his life, with great atmosphere. His flow and lyricism have improved since last year, and the messages are as clear as ever. It takes guts to be as vulnerable and to write about the personal matters T.w.p. does on this album. The way he pours his heart out is something not everyone could do. We live in a world today where we try not to open up and show ourselves. Lack of honesty has led to a generation full of anxiety, isolation, broken relationships, and frustration. By opening up and allowing listeners to join in, T.w.p. lets others see that they are not alone in their struggles. It encourages frankness and openness, which is something we all could use more of in our lives.
Aside from strong lyrical and thematic quality, Twizm displays remarkable growth musically as well. Each song is beautifully crafted, with dark, moody, theatrical music, as well as some banging beats. His rapping has become even more complex and intense at the same time. He can really do it all, write and rap, and it's exciting to see him growing and improving.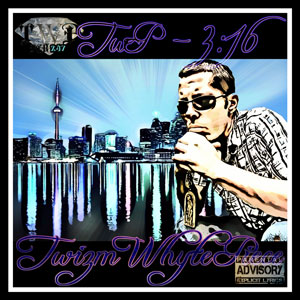 "TWP 3:16", is in my opinion, one of the best all-around rap albums so far in the New Year. It's well rounded and has an addictingly good sound. Real music. That's the brand, the motivation and quite noticeably, the theme of each Twizm Whyte Piece produces, with his latest being no exception to that brand.
"My Madonna" is embedded within a fiercely intense beat. The song has a massive sound that creates a sense of tension, anticipation for something unexpected yet suspiciously familiar. And from there on out its all plain sailing. Thematically, Twizm's brutal honesty and transparency give his songs added meaning and impact.
Hence "So Many Eyez" has an even bigger sound. With sixteen tracks on the album, it's certainly easy to see that the man is dedicated. "Thoughts & Memories" has Twizm in stream of consciousness mode. This track sounds simple in concept, but because of how well-written it is, it stands out.
On "Feel My Struggle, Feel My Pain", he shows that he has some serious potential and that he will be catching a lot of people's attention. "Never NeverLand" and "Dialtone are among the best tracks on the album. As is "Ciroq & Hypnitiq" and "Watching Me Pt.2".
But to be honest, there isn't a skip-worthy song on the record. "Black Opz 2" and "Candy Shop" plays testimony to the fact that Twizm's music is always an intense mix of meaningful lyrics and bone-chilling beats that enhance his all-round work. He never leaves his bars on the surface, but instead dives deeper into his mindset with each and every track.
It may be very difficult for Twizm Whyte Piece to top this album with his next one, but I will be very eager to see him try. In the meantime though, he's left us with a great piece of work to process and enjoy. The award-winning rapper has definitely taken another big step on his road to becoming one of the premier rappers in the underground business.
OFFICIAL LINKS: WEBSITE – INFO & UPDATES – FACEBOOK – TWITTER – INSTAGRAM – YOUTUBE – SPOTIFY – REVERBNATION – SOUNDCLOUD
Please follow and like us: