Born in Sicily, Maria Grazia Rago is an Italian pianist and composer, who now resides in Illinois USA. She initially studied piano with Lea Cumbo and Eliodoro Sollima, and then continued her musical education in Rome with Bruno Canino and Marcello Abbado. Her composition studies came at the Conservatoire National Superieur De Musique Et Danse De Lyon in France. The award-winning composer's works have been performed in festivals and theaters throughout the world. Martin Szorad is a guitarist from the Czech Republic. He has been playing guitar for 16 years. He plays guitar, bass guitar and piano. Together, Maria Grazia Rago, Martin Szorad and the Amadeus Academy Orchestra have completed a single, entitled "Burnt Streets", which is taken from the album "On The Road".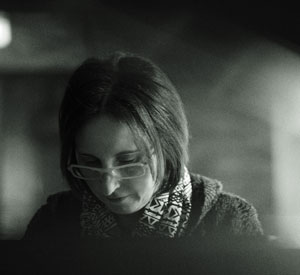 This is a minor masterpiece, as Burnt Streets fuse their own otherworldly techniques, and create this killer blend of classical, fusion and metal. The music is stunning as they capture the essence of classical renaissance ensembles, cinematic moods, and pyrotechnical guitar shredding.
This is a highly accessible, yet gloriously epic song, containing everything you love about dynamic orchestrated arrangements, and impacting electric guitar driven rock.
But other than shredding the strings, and sonic bombast, Martin Szorad and Maria Grazia Rago haven't forgotten the major component of a working studio song: structure, flow, and atmosphere. The two complement and complete each other's musical vision. The speed and energy is mostly confined in Szorad's solos, but the ensemble's playing and songwriting is full with a confident and diverse approach.
In fact "Burnt Streets" oscillates between the energetic metal power of Martin Szorad licks and riffs, and the kinetic string progressions designed by Maria Grazia Rago. The song also benefits from a very well balanced and dynamic production thanks to watchful eyes and ears.
The overall consistency both in the songwriting and delivery makes "Burnt Streets" a quality and well refined chapter in both Rago and Szorad's discographies. It should not only enjoy groundbreaking contemporary neo-classical status, but also undeniable power metal excellence.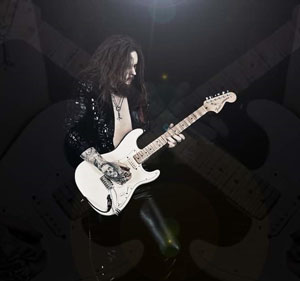 Szorad wastes no time, as the track kicks off with him progressively moving towards shredding. This songs transmits a great deal of energy to the listener – the guitars, and string orchestrations blend perfectly together.
"Burnt Streets" is also one of those tracks that catches your attention quickly, as the thundering guitar riffs find the pockets inside Maria Grazia Rago's compositional template. This track isn't just about what a superb composer Rago is, or what a virtuoso guitar player Szorad is; it's a testament to human ingenuity and the progressive thinkers who push music to new heights by refusing to adhere to mediocre mainstream status quos or pre-boxed genre labels.
"Burnt Streets" is about smashing through the boundaries of predetermined demographics for the advancement of music. There is no way you can listen to this track and not be in awe of musicians like Martin Szorad and Maria Grazia Rago, who boldly reach out of their comfort zone, for the sake of music.
OFFICIAL LINKS:
Maria Rago
www.mariaragomusic.com
facebook:@mariaragomusic3
instagram:@mariaragomusic
Martin Szorad
bandzone.cz/yjmalmsteencoverband
youtube.com/user/suzinabxvcb
Please follow and like us: