Alternative rock artist Imad Jack Karam, known by his initials and stage name IJK, is a Dubai-based, Lebanese singer-songwriter, who has released critically acclaimed songs and recorded with internationally known music producers in prestigious London studios. Both his singles "Space Odyssey" and "Dancing Shadows" garnered a positive reception from fans and critics alike. IJK has a style that can move between edgy modern-day alt-rock and sixties rock n' roll crooning.  He recently published his latest single and supporting, fully animated video, for the song "Johnny & June".
So, how does this new offering cope? Very well, in truth. "Johnny & June" is an excellent track. Not an excellent "rock track", or an excellent "pop track", but an excellent IJK track. It's a distinction worth making because these days many artists' appeal are confined, to their own unswerving horde of adherents.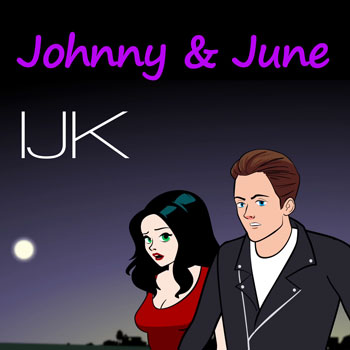 In this case IJK is likely to attract many more new fans from both of the aforementioned genres to sustain him artistically and to keep the wolf a very healthy distance from the door.
It's an enviable position for an artist to occupy and a really simple deal: IJK makes excellent, well-thought-out, well-constructed, and well-executed music. Period. Furthermore, In addition to the accomplished music arrangement, IJK has produced an exemplary fully animated video, in collaboration with Matias Alejandro Cabrera.
This renders the entire package palatable to a vast number of music and audiovisual fans. Guitars hammer and twinkle; the music is crunchy and insistent; there are bass-pumping refinements, but mostly the music throbs like an electricity substation.
"Johnny & June" is primarily a powerful up-tempo love song – with all the sappiness usually associated with love songs removed. A gorgeously controlled vocal is augmented by fiery electric guitars and festooned with a swirling, ever-building rhythm leading to a soaring chorus.
The drums insistently move the momentum, while IJK breaks through the thickly layered harmonies into a sustained falsetto that rises well above the rest. Cranking up the volume and letting loose with explosive guitars, rattling bass, and earth-shattering drums, IJK has given us, what I feel is his best single release to date. It is another bit of essential listening for his fans.
Overall, "Johnny & June", produced by Pete Turtle at Turtle Studio London, UK, packs breathless, power-guitar riffs, irresistible verses, and thermal meltdown choruses. The story-line in the video is very cleverly executed and perfectly matches the song's lyrical narrative.
With the band pushing him rather than simply covering his back, IJK sounds invigorated, stretching, twisting, and doing those wordless falsettos more convincingly than ever. These elements make the track affecting rather than just a good tune.
OFFICIAL LINKS: WEBSITE – FACEBOOK – YOUTUBE
Please follow and like us: