With high profile performances and DJ appearances across Europe and North America, New York City's Temu has established himself as a one of a kind force of nature, carrying the torch of funk for future generations. His latest album 'Relic Of The Mothership' is a masterclass filled with mind altering grooves, mesmerizing talkbox melodies, and of course Temu's show stopping voice.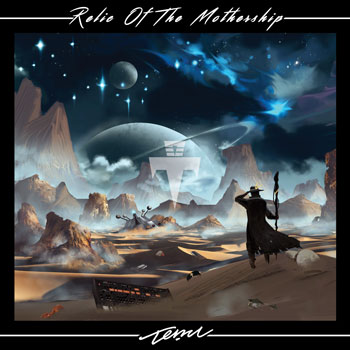 Opening with 'Scavangas,' Temu's ability to reinvent genres in his own image is on display right away. He and collaborator Blacc El erase walls between hip hop and soul, weaving thought provoking social observations together with dance rhythms that speak directly to the body.
Drawing from the work of singular geniuses like Prince, George Clinton, and Zapp & Roger, Temu takes listeners on an interstellar journey that speaks directly to everyday life, as highlighted with the down and dirty title track.
On album highlight 'Jooze,' Temu shows a different side of himself, focusing on an electronic dance beat that could light up any rave in the world. The track provides so much content that he later presents its remix as a mirror image, a Sly Stone inspired piece of laid back psychedelia.
By the closing notes of 'Magic & Sorcery,' Temu has taken a trip from the innermost parts of his mind to the farthest reaches of outer space and back. Temu is no ordinary artist, and this is no ordinary album. Instead, it is the gateway into the mind of a truly extraordinary artist. 'Relic Of The Mothership' is available everywhere now.
Album Smartlink: www.smarturl.it/TemuROTMalbum
Website: www.temumusic.com
Please follow and like us: