(New York, NY) –  The socially conscious trio Astronauts of Antiquity (AOA) recently released their newest single "Future Back" on September 16, 2016. The electro- pop group returns with their second stimulating track off of their forthcoming Beyond The Maze EP, available in 2017. The single will be followed with an accompanying music video.
It seems that even with robots love knows no bounds. At least this is the case in the new Astronauts of Antiquity "Future Back" music video. The band teamed up with TribeSound Productions, a Philadelphia based production company to produce this veiled millennial social commentary love story staring…..robots.  Nuclear fallout, stunning post-apocalyptic scenery, adventure, and a never ending romantic quest amidst the forces of evil set the tone for this fun and provocative film short. Look for the release by mid-October.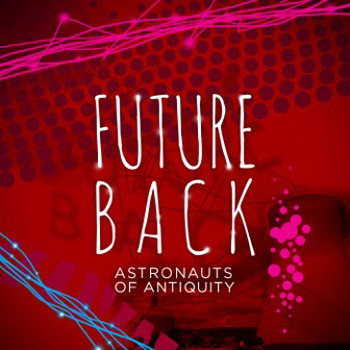 After releasing their debut hip-hop single "Paradise", AOA showcases their versatility and eclectic talents with a new electronica and alternative pop format in their latest release. Sonic wizard and producer, Ivica begins "Future Back" with a Daft Punk influenced vocal effect that sets a glitchy and experimental tone to the track. The song then eases into lead singer, India's passionate vocals that narrate the appreciation of love and nature as she expresses her desire for a future of harmony across the world. Her lush vocal melodies are laced over B. Rhyan's dreamy and funky guitar riffs that are blended perfectly with Ivica's electro-organic elements. Overall, AOA's dynamic chemistry creates a vibe of futuristic funk that accentuates their contemporary sound.
In addition to AOA's unique and refreshing sound in the urban, electronic and pop scene, the collective also offers thought- provoking and motivating words of wisdom within their lyrics. The group's efforts intend to raise awareness to the many social concerns across the world. AOA's first single "Paradise" was already featured in a Huffington Post article that discussed the harmful effects of genetically modified organisms. "Paradise" was also featured on other news sources such as Popped Culture.
"First see that all life is sacred, that there is a spiritual spark in every living being from the earth itself down to the tiniest insect. With that equal vision we will be more inclined to make policies based on compassion and the greater good.  Without this fundamental shift we will live in a world of fear, which teeters on the brink of nuclear engagement at the hands of those whose motives are not based on higher principles. 'Future Back' is a charming/alarming wakeup call" – B. Rhyan
Aside from informative sites, AOA has been featured on popular hip-hop sites such as ThisIs50, Hip Hop on Deck, SOHH and more. "There comes a time when you think you've heard it all but then Astronauts of Antiquity comes smashing down your door in supersonic speed and slaps you in the face with the force of a thousand suns," says SOHH.
For more information please visit: http://aoamusic.com/
Social Media:
Facebook: https://www.facebook.com/AOAMusic1/
Twitter: https://twitter.com/aoamusic/
Please follow and like us: