Rob Carroll is a Singer, Songwriter and Music Producer from Manchester U.K. We recently spoke to him about the state of his art. His aim is to add more positivity to the world through his music. With Dance as his preferred genre. He loves the nightclub and party vibe as it can bring the best out in people when you put your worries aside and dance the night away. There is more music to come from Rob Carroll. Rob believes he can reach out to millions around the globe.
When and how did you get started producing music, and do you have any formal training?
Rob Carroll: Without giving away my age. I started producing around 7 years ago. Learning on my own, watching YouTube tutorials.
For most artists, originality is first preceded by a phase of learning and, often, emulating others. What was this like for you? How would you describe your own development as a producer, and the transition towards your own style?
Rob Carroll: Watching YouTube Videos and exploring the DAW itself. Through practice, I gained more skills and knowledge as a producer.
Who were your first and strongest musical influences that you can remember, and who are you listening to now?
Rob Carroll: Growing up being a massive fan of Take That, but now I listen mostly to Electronic Dance Music.
What do you feel are the key elements in your music that should resonate with people?
Rob Carroll: The chorus for me is where the magic happens
What do you think separates you from the crowd of producers emerging right now?
Rob Carroll: Originality! Following my own path.
What is your process when composing a beat? Where do start, and what usually comes into your head first – the melody, the beat or the vibe?
 Rob Carroll: Usually the Melody
How strict are you with genres, and are you comfortable working with other genres that are outside of your preferred style?
Rob Carroll: Open to other genres but mainly EDM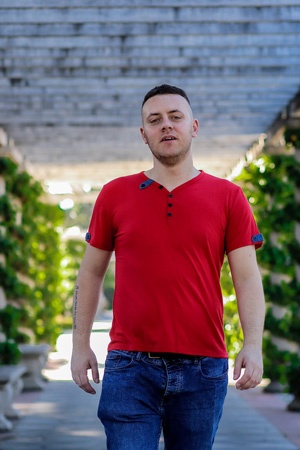 Do you write lyrics?
Rob Carroll: Yes, songwriting is fun!
How often do you sing?
Rob Carroll: Everyday
If you were forced to make a choice, which would you ultimately prefer – working up a crowd in a live setup, or creating music in the studio?
Rob Carroll: Live Performances
What were some of the main challenges, difficulties you faced when starting out as a producer and which are the difficulties you are facing now, if any?
Rob Carroll: No formal training. Started from scratch with my Laptop
What was your first hardware/software set-up as a producer like? Has your setup evolved since then, and what for you is the most important piece of gear in your production process right now?
Rob Carroll: A Laptop is all you need. I use Ableton to make my music and I own a MIDI Keyboard to play chords.
Which aspect of being an independent producer excites you most, and which aspect discourages you most?
Rob Carroll: Being creative is fun and I enjoy
What are you most skilled at, as an artist?
Rob Carroll: Vocals. Vocals are important to me. It's a gift.
In general, do you consider Internet and all the social media platforms as fundamental in building a career in music today, and what is your personal relationship with the technology at hand?
Rob Carroll: Yes Social Media is an amazing way to connect with fans and promote music.
If someone has never heard your music, which keywords would you personally use to describe your overall sound and style?
Rob Carroll: Positive and Uplifting
How often do you sing?
  Rob Carroll: Every day
Do you collaborate with different producers?
Rob Carroll: Yes
If you had the choice to produce for any current international artist today, who would that be, and why?
Rob Carroll: Becky Hill
Do you have a specific vision or goal that you would like to achieve in the near future?
Rob Carroll: A Global Superstar
OFFICIAL LINKS:
Instagram – robcarroll_ https://www.instagram.com/robcarroll_/
Twitter @robcarrollmusic https://mobile.twitter.com/robcarrollmusic
Tiktok – robcarroll_ https://www.tiktok.com/@robcarroll_
Please follow and like us: