Erika "Boogieebaby" Martin was born and raised in the hard working blue-collar city of Pittsburgh Pa. Hard work and dedication is all Boogieebaby knows. It is a given that Boogieebaby brings that same work ethic and tenacity to every song she writes, records and every performance she gives. Boogieebaby's passion for words and lyrics started as a young girl. Growing up she could often be found with her pen and pad writing poem after poem. It is that same love for word and lyric that has led Boogieebaby down her current career path. At every turn, Boogieebaby strives not only to be on the path to success, but to also show the next generation of young ladies to work hard, follow their dreams and to carry themselves like the ladies that they are. It is certainly an entertaining and exciting experience to listen to and watch Boogieebaby at work. Since coming back to the music scene in 2020, Boogieebaby has been giving the opportunities to open up for mainstream artists such as "Lil Flip" and "36 Mafia's Crunchy Black." Her single "No Intro" has reached 13k views on YouTube and has the attention of legends such as Debra Antney. Since then she has traveled and performed in Detroit, Ohio and NYC numerous times. Her latest single "Heavy" has reached over 18k streams and continues to climb. Her latest big performance was for Power 105.1 and Roc Nation in Brooklyn to celebrate 50 years of Hip Hip. We are all on the edge of our seats to see what the universe has in store next for the rising Pittsburgh native.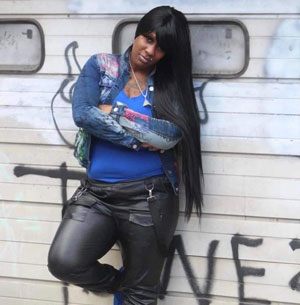 Can you tell us more about your journey as a rapper and how you got started in the music industry?

BoogieEbaby: Music has always been my passion. My published poetry as a kid started my career as a songwriter/musician.
How has your upbringing in Pittsburgh influenced your music and lyrical style?



BoogieEbaby: Growing up in Public Housing prepared me for how raw the streets and the music industry can be. It made me appreciate life experiences and allowed me to tell the world my story.
Could you describe your creative process when it comes to writing songs? Do you have any specific rituals or techniques?
BoogieEbaby: When it comes to writing i kinda just go with the flow. I do like to be alone most times though.
Your passion for words and lyrics started with writing poems as a young girl. How did that transition into becoming a rapper?



BoogieEbaby: I use to freestyle in the hood with my friends. I also use to battle in the boy's bathroom in high school at lunch time lol
What message do you aim to convey through your music, particularly to the new generation of young ladies?



BoogieEbaby: I would say to just be yourself and stay true to your craft.
How would you describe your unique sound and style as a female rapper?

BoogieEbaby: No one sounds like me. Industry or underground. Need I say more? Lol
Who are some of your biggest musical influences and how have they shaped your artistic vision?



BoogieEbaby: Biggie Smalls and Remy Ma are my biggest influences. I learned a lot watching them growing up.
"No Intro" has gained significant attention on YouTube. Can you share the inspiration behind that song and its message?
BoogieEbaby: Pittsburgh shit lol if you know you know. Just putting on for the city it was needed. The streets were missing me.
You've had the opportunity to open for artists like Lil Flip and Crunchy Black. How have these experiences influenced your growth as an artist?

BoogieEbaby: Every opportunity I get to open for an artist or perform at all is truly amazing to me. I take nothing for granted.
Your single "Heavy" has been gaining traction with over 18k streams. Could you tell us more about the meaning behind the song and what it represents to you?
BoogieEbaby: "Heavy" is about the self-healing process and lifestyle of a musician and how I am handling it all.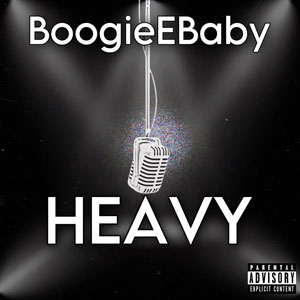 What can you tell us about your experience performing for Power 105.1 and Roc Nation to celebrate 50 years of Hip Hop?
BoogieEbaby: It was a beautiful experience. I was asked to come back and perform for Power 105.1 again in August so I am looking forward to that.
How do you balance the demands of performing and recording music while continuing to grow as an artist?



BoogieEbaby: For now everything is on my time so I am managing.
Can you share any upcoming projects or collaborations that your fans can look forward to

?



BoogieEbaby: I have a feature with Tjuan Benafactor and another with Rick Ross coming soon.
As a rising Pittsburgh native, what do you think sets you apart from other artists in the hip-hop scene?
BoogieEbaby: My goal is to become an industry artist so i kind of live in that world already mentally lol
What challenges have you faced as a female rapper in a male-dominated industry, and how have you overcome them?
BoogieEbaby: Not being taken seriously but my lyrics usually change that once I am heard.
How do you think your music has evolved since your comeback in 2020?

BoogieEbaby: My delivery and my content is way better.
"Never Chase" featuring Lisa Lise was one of your earlier singles. What was it like collaborating with another artist, and what do you enjoy most about collaborative work

?



BoogieEbaby: Being able to inspire another artist is always a bonus in my book. Also it was a song i created for a Pittsburgh Reality show we were both apart of.
What do you consider to be your biggest accomplishment in your music career so far

?



BoogieEbaby: I would say my Rick Ross feature for sure. I look forward to featuring on many more tracks with industry artists.
How do you engage with your fans and build a strong connection with them?
BoogieEbaby: Social media a lot of the time. I always interact with fans at shows and events too.
Looking ahead, what are your long-term goals and aspirations as an artist?
BoogieEbaby: To have Grammys and lead movie roles and to hear my lyrics sang all over the world.
OFFICIAL LINK: www.instagram.com/IamBoogieebaby
Please follow and like us: