Eli Da Vincii, the prolific artist, who hails from Brooklyn, New York, has been producing hip-hop tracks since an early age. After years of accumulating musical insights, he has finally established an astounding soundscape that is rich in both reverberating rhythms and fantastic lyricism. With patience and dedication, he hopes to create musical content that will appeal to a wide range of people. His works are recognized to have a stunning effect on listeners, entering their hearts with lyrical and melodic magnificence. Eli Da Vincii's debut album, "Thank God I'm Different" drops September 8th.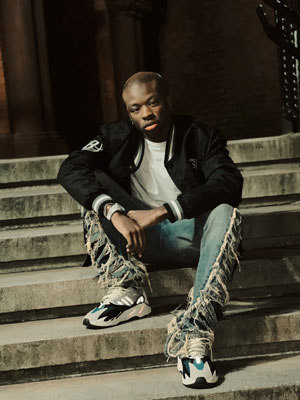 Eli, your journey in music began at a young age. Can you share with us a pivotal moment that ignited your passion for hip-hop

?



Eli Da Vincii: My passion for hip-hop ignited after creating a first song I fell in love with hearing my voice over a beat flowing and spitting hard lyrics I knew this was going to be a process I enjoyed doing.
Growing up in Brooklyn, New York, you were exposed to a rich musical culture. How has your hometown influenced your unique style and sound?



Eli Da Vincii: Ahhh of course I moved out the city at a young age but every time I went back it put me in a different creative state, there's nothing like being home that puts you in a different zone I love the culture of my city and the mindset it puts me in.
Early in your career, you started producing hip-hop tracks. How did those experiences shape your approach to music production?
Eli Da Vincii: So for the first time ever recording my album, which drops soon! I started experimenting with making beats looping things and cutting and adding all that fancy stuff and before I knew it, I created 10 unique beats for my album. The experience makes the songwriting process so much more fun and meaningful being able to fully create the sound that you want.
Can you reflect on some of your musical influences from your formative years? How have they played a role in shaping your artistic identity?



Eli Da Vincii: Watching Nicki, Drake, Lil Wayne and others as I grew up was the best back when hiphop was as all about talent and hard work versus now where it's a popularity contest, But I strive to connect with the world like artists back in the day did through sheer talent and not gimmicks.
What were some of the challenges you faced while honing your craft, and how did you overcome them to reach the level you're at today?



Eli Da Vincii: The challenges I face and still face is being too critical of my own work I find myself changing a song 100 times before I like it and end up still critiquing it after like "Aw man I should've added this or took this away" it's funny. Another challenge I struggle with is trying to reach an audience to share my art with, I still struggle with these things but I know in due time I will conquer them.
Your musical compositions are known for their intricate rhythms and captivating lyricism. Could you tell us about your creative process and how you bring these elements together?

Eli Da Vincii: My songwriting process is weird. I don't like for it to feel like work so I honestly have to get in that mode when I feel like it, because if I don't, then it starts to not be fun. But once I'm in my zone I find myself writing or freestyling lyrics that are different. I'm always thinking like "Let me say something that no one has said yet" It's hard but that mindset keeps me creating new and fresh sounds that aren't often heard in today's time.
As an artist dedicated to creating content that resonates with a diverse audience, how do you ensure your music speaks to people from various walks of life?



Eli Da Vincii: I do that by staying true to my own self. It's hard to make music when you're not embracing who you are and what you like to do, when you aren't in tune with yourself. It messes the whole creative process up and makes it harder to connect with people because they don't know who you are.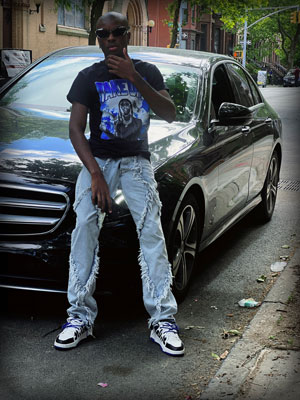 Collaborations often lead to exciting new directions in music. Are there any artists you dream of collaborating with, and why do you think your styles would complement each other?
Eli Da Vincii: Oh yes I would love to collaborate with Nicki Minaj, Drake, Lil Wayne, Fabolous, Big Sean, Eminem and many more. But those are like my top picks I grew up listening to those guys studying their styles and adding little elements to my own. I think our styles would be great together because we are all versatile artists who aren't afraid to try new things out.
With the release of "Thank God I'm Different" just around the corner, can you give us a glimpse into the themes and stories we can expect from this debut album?



Eli Da Vincii: Oh yes the theme of this album is just embracing being different and not fitting into the regular crowd. I talk about so many experiences I've been through on this album, such as my battle with anxiety, different insecurities and fitting in. This is the first time I shared some of these things with the world. The overall vibe is very alternative the beats are very emotional and otherworldly it helps with the theme of being different.
Each track on an album can be like a chapter in a story. Could you walk us through a couple of standout tracks from "Thank God I'm Different" and the emotions they evoke?
Eli Da Vincii: Yes my favorite track off the album is my song "Computer Crushin". It's always the last minute additions I fall in love with the most. I was lying in bed and couldn't get this melody out of my head so I had to hop up and record it before I forgot it. And man did I enjoy creating this track. Another song I enjoyed was the Intro titled "Not From Here". I liked this track because it was like a poem about being different and foreign to the world no heavy vocal edits or hard rapping just simply rhyming over elegant vocals which helps shape the story of this album. I honestly love every song on this album and can't wait to share it with the world!
The process of putting together an album can be a transformative experience for an artist. How has crafting this album changed or deepened your connection to your own artistry?
Eli Da Vincii: This album has helped with so much because it's helped me realize how creative I can be and how it's okay to be different and standout from other artists. I have definitely grown as an artist while creating this album, because I now no longer feel the need to create one kind of sound. I want to continue experimenting and attracting different crowds.
Collaborations often add a unique flavor to albums. Are there any featured artists or producers on "Thank God I'm Different" whose contributions you're particularly excited for your fans to hear?



Eli Da Vincii: "Thank God I'm Different" actually contains no collaborations. I was the Sole creator I wrote all lyrics (As I always do) and created every single beat as well as mixed and mastered all songs. This was a completely Independent project.
With the album's release just weeks away, what message or feeling do you hope your listeners will take away from experiencing "Thank God I'm Different"?



Eli Da Vincii:  I hope people will get a glimpse into my mind and see just how different, weird and creative I am, and I hope it will help others feel more comfortable with who they are too. The main goal is to help others appreciate themselves and not change who they are for anybody!
The album title suggests a sense of individuality and self-expression. Can you elaborate on the significance of this title in relation to your music and personal experiences?
Eli Da Vincii: Yes I can! Throughout my life I struggled with trying to fit in and express myself creatively. It took me a while before I finally told myself "Look you're different you're not going to fit in that's what makes you unique embrace it". This title is very important because after all the fighting, I'm finally saying Thank you God for making me different.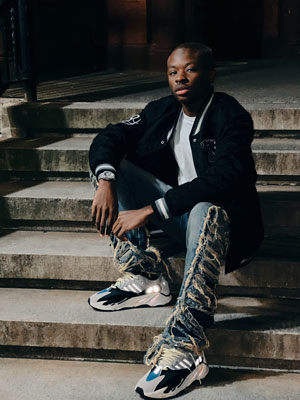 Can you share a memorable moment from the recording or production process of "Thank God I'm Different" that stands out to you?
Eli Da Vincii: The first beat I made was for my song "Outta This World". I remember sitting in disbelief like wow did I really just create my first beat and it actually sounded pretty decent I captured the vibe of what I wanted and this song set the vibe of the album.
Were there any specific challenges or breakthroughs you encountered while working on your debut album, and how did they shape the final outcome?



Eli Da Vincii: Oh yes I finally broke through rushing the process. I've learned now to just tap into my zone and when I'm tapped out to just leave it and come back to it later so I am not rushing and creating imperfect tracks.
Looking ahead, what are your aspirations for your music career in the coming years? Are there any particular milestones you're aiming to achieve?



Eli Da Vincii: I am honestly aiming to become a very successful and impactful Independent Artist.
Looking ahead, what mark do you aspire to leave on the hip-hop landscape with your debut album, and how do you hope it will contribute to the genre's ongoing evolution?

Eli Da Vincii: I really hope I am able to showcase my artistry with this album and give people a look into my world and who I am as a person.
In an age of digital consumption, how do you engage with your fans beyond the music itself? Are there any specific interactions, connections or platforms that stand out to you?
Eli Da Vincii: As much as I dislike social media that it how I make most of my connections with artists and potential supporters on there, I have to honestly force myself to be active on there because it can be very negative and unreal at times.
Do you have a favorite motto, phrase or piece of advice, you try to live or inspire yourself by?
Eli Da Vincii: Yes I always say "If you hungry you gone find a way to eat by any means necessary".
OFFICIAL LINKS:
Artist website: https://elidavincii.com
Instagram: https://instagram.com/duhvenchyy?igshid=MzRlODBiNWFlZA==
Twitter: https://twitter.com/EliDaVincii
Apple Music: https://music.apple.com/us/artist/eli-da-vincii/1481695195
Spotify: https://open.spotify.com/artist/35YUuvg6wK4XbD1cr8Egfl?si=3ipDgsHHTpi-kQOmDhpcrA
Tidal: https://tidal.com/artist/23233874
Please follow and like us: