Eddy Mann is a musician, songwriter, worship leader, teacher, speaker, coach, husband, and father. Eddy's led worship for over fifteen years. As a musician and songwriter it was twenty years ago that he made the decision to offer his creative gifts to God. Since then he's released seven CD's and written countless songs for the church and world at large. On any weekend you can find him in a coffeehouse, in concert, at a conference, and/or leading worship.
How long have you been in the music business and how did you get started in the first place?
Eddy Mann: I've been in the music business for as long as I can remember. I first held a guitar while in high school and it literally changed my life. I went from being a painfully quiet and shy kid, into a confident out-going creative. I've never looked back!
Which artists influenced your style?
Eddy Mann: As a young guitarist I was heavily influenced by Jeff Beck and later Larry Carlton. My father was a pianist with a jazz quintet so there was always music in the house, all kinds of music. So I was really exposed to an enormous amount of artists and styles.
Which current artists do find yourself listening to with appreciation?
Eddy Mann: I still listen to everything, so on any given day my soundtrack could be Jason Isbell, Steve Gadd, James Taylor, Miles Davis, Vince Gill, Béla Bartók, John Mayer, and that was just this week.
Do you remember the precise moment that you made the decision to 'offer your creative gifts to God', and why?
Eddy Mann: I was sitting in the teacher's lounge of a local school. I had taken some time off from the road to teach while my children were young, and I had a free period. I wrote a song called Swept Up in Joy. It was written in minutes and afterwards I was overwhelmed with the possibilities of offering my gift to Him. I remember coming home that evening and sharing with my wife the epiphany that I had experienced.
In retrospect, do you think this decision hampered or enhanced your musical horizons?
Eddy Mann: There's no doubt that the decision was a positive one. It completely changed my view of the business. I no longer made only financial decisions. I was now making spiritual ones. It enabled me to create in a very free environment. I was, and still am, completely comfortable in my skin.
Did the decision to worship God, change the way you made, or still make your music?
Eddy Mann: I wouldn't say it changed the way I made or make music directly. I write everyday. I find myself inspired very easily. So when it's time to do the next album I look at what I've written over the past season and draw my material from that collection. Inevitably there's a theme running through those songs. It's a theme that reflects whatever season I'm in. So as I was becoming a more spiritual being my creativity reflected that, but naturally, in an indirect way. There was no preconceived ideal or goal to write in a specific vein. I've always approached my creativity that way.
Do you work with a backing band in your live performances and studio recordings?
Eddy Mann: I have an amazing group of musicians (currently Andrew Barber, Mike Lozinski, Mike Fiocca, Kevin Smith and Billy Mettinger) that support me. I don't get the opportunity to work with them live as much as I'd like to because of financial reasons, but I love their input whenever I can get it. They understand my approach to live performances in that I like to have, and allow the freedom for the songs to grow and follow different paths from night to night.
What do you consider a successful or high point in your career so far?
Eddy Mann: When I look at the career I've had there isn't a particular moment that stands out, but I've been blessed to live a musician's life, to have released eleven albums while being married to my soul mate for twenty-five plus years, raised two wonderful daughters, acquired a beautiful home, and to write this now without a penny of debt. I'm a blessed Mann!
If you could sum up the single most important quality in your songwriting, what would that be?
Eddy Mann: Honesty. I write about how I feel. It doesn't always go down well with everyone, but that's okay. I want, like all artists, to create some kind of emotion from the listener, a response, whether it's positive, or negative. I create to inspire, to challenge, and to spiritually touch my audience. If I'm not honest in my approach, the results won't be an honest reflection of my work.
What do you feel your listeners should get out of your music?
Eddy Mann: Dig Love was written as a response to the what I saw and heard happening in the world. I chose to take an optimistic view hoping to inspire a loving, compassionate approach to what I saw as a crumbling future. I wanted to put the focus on all the things that we have in common, as opposed to the one thing we may not have. My message is always positive and loving at its core.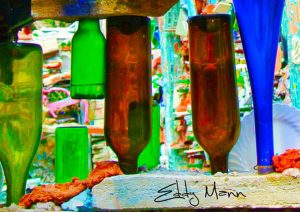 What has been the most difficult thing you've had to endure in your life or music so far?
Eddy Mann: As I sit here looking back over the years I can't seem to zero in on one moment or season. That's not to say that I haven't known illness, loss, disappointment and rejection, but I've never been crushed by something that hindered my positive view of the future or derailed my journey.
If you had the opportunity to change one thing about the music business, what would that be?
Eddy Mann: If I could change one thing about the business it would be the negative competition factor. Too many bands I've known have felt like they were battling with their peers instead of embracing them. The business does that; it creates an environment where you're fighting for recognition, for gigs, for airplay, for fans. What it does is rob us all of community, collaborations and much needed creative inspiration.
How do you market and manage your music career? Do you have a management team or do you control everything by yourself?
Eddy Mann: I'm currently a youngling at MTS Management. I've been with them going on three months. I found myself in a season where I wanted to grow my support and accountability team. The better the people surrounding me, the better my art and business side will be and at the moment this looks to be a beautiful new relationship.
What does your family think of your artistic aspirations and performances? And how to you conciliate being a musician, songwriter, worship leader, teacher, speaker, coach, husband, and father…?
Eddy Mann: I'm smiling. I'm smiling because it may be what I'm most content and happy with in my life. You see whatever I'm doing at the moment is always the most important thing. My life is a balance of everything you've listed above. The joy for me comes in knowing that I'm at ease in everyone of those situations, that I have a passion for each and everyone, and that I greatly appreciate and value the experience that they offer me.
If someone has never heard your music, which keywords would you personally use to describe your overall sound and style?
Eddy Mann: Over the years my catalog has been very eclectic. I've defied genre identification by just being true to who I am, and what I was feeling. My message is, and has always been, honest, genuine, heartfelt and from a spiritual space.
What is your personal relationship with the internet and all the new technology at hand?
Eddy Mann: Like most people I'm trying to stay on top of all the advances in technology. The personal, social, and promotional landscape is always changing, so you've never quite arrived, you're just always trying to stay as few steps behind as possible.
What is the title of your latest release and where and when can fans find it?
Eddy Mann: I've been supporting Dig Love for the past year. A new compilation album called Re:Prize is dropping the first week of September, and then the follow up to Dig Love, The Consequence, will be released the first week of November. All the titles can be purchased through my website eddymann.com and also at every other internet platform where music is sold.
Are your songs predominantly personal, confessional and introspective or more in pursuit of the greater world that surrounds us all?
Eddy Mann: Yes! Haha, …actually if you were to listen through my catalog you'd hear elements of all of the above. As I mentioned earlier, all that I've experienced, all that is part of the fabric that is me, is revealed in my art. Usually in an indirect way, but it's still there.
Besides your faith, do you have a personal motto or phrase that helps keep you inspired and focused on who you need to be, each day you wake up?
Eddy Mann: Well I'm well aware that each day is a blessing, and that I want to make the most of each one. So I want to take my most valuable asset, time, and be as efficient with it as possible.
What is the best piece of advice in the music business or in your personal life that you actually followed, and one you didn't follow, but now know for sure in your heart that you should have?
Eddy Mann: My father taught me as a young man that each day was going to have its problems, and that the way I learned to deal with them, would determine how happy I'd be. It's proven to be priceless information. On the other side, I worried about what others thought about me for way too long. Learning to be myself, to be true to my calling, to my creativity, was when I discovered true happiness and contentment.
OFFICIAL LINKS: WEBSITE – FACEBOOK – TWITTER – ITUNES
Please follow and like us: