Simpatico is a producer from South Los Angeles. Describing his style as 'Lofi Electro-Chill R&B,' Golden hour music, the young artist creates a dreamy nostalgic world of sounds with his lush and expansive productions. After a few years as a hobbyist, he decided to make a career out of it in 2018. His official debut is the single 'Moonrise,' (2019) a chilled out instrumental with nostalgic spacey vibes perfect for nights in candlelight. His most popular single "Tonight" features the talented up and coming smooth singer Ivylesson who brings a catchy, sexy, yet nostalgic track about romance overseas. A deep thinker and a hopeless romantic, the depth of feeling in Simpatico's music sets him apart from the crowd. He draws inspiration from his hometown, the clash between city and nature, and the way people interact with their constantly changing world. "I see love as fiction transcribed into music," he explains. "It's the only way for me to express myself when I'm surrounded by chaos."
What's your real name? What city are you from? When and how did you get started producing music, and do you have any formal training?
Simpatico: My name is Ruben Urena, I'm an Electronic music artist from Los Angeles, CA. I started when I was 14 years old, I was a freshman in HS I used many DAWs (Digital Audio Workstations) as a distraction from certain grieving times of my life. It was mostly a hobby I didn't release anything to the public at the time, plus I doubt anyone wanted to hear those terrible productions. I took Music 101 in college and my dad was a self-learned musician so music was all around me, but I don't have formal training. I took a dive in this and I have been learning as I go and it's been both fun and scary.
For most artists, originality is first preceded by a phase of learning and, often, emulating others. What was this like for you? How would you describe your own development as a producer, and the transition towards your own style?
Simpatico: Originality is truly hard to achieve considering most artists are inspired by someone else. In truth, I wouldn't be doing this If I wasn't inspired by another person's art. There's a French-House producer named Darius who initially inspired me to make music my career. I don't make house music (yet) but I plan to and you will definitely hear some of me and some inspiration from the all-amazing Darius. Apart from house music I came across different electronic music genres such as Future bass, Lo-Fi, and Alternative RnB and fell in absolute love with them. It was hard for me to choose which genre to make music to so I ended up meshing it all together and now its Sympatico's sound. I just use all the sounds I love and that's really it, I'm not trying to emulate anyone I'm trying to find what I can contribute to music that no one else has yet. I feel my sound is quite unique considering the genre-fusion, for better or for worse.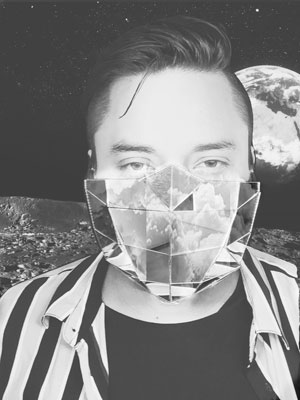 Who were your first and strongest musical influences that you can remember?
Simpatico:  I remember going down a music rabbit hole on YouTube and found this jaw dropping song called Espoir by Darius and Immediately I was in love. The epic long intro changed my life immediately I knew I wanted to make music like this but not genre-wise but feeling wise. It just made me feel some type of way, if you haven't heard the song yet you're in for a treat. One day, if it's meant to be I hope to collaborate with him. Apart from him, I have also been influenced my musical artists, FKJ, Medasin, Alina Baraz, Galimatias and many others. I guess I can thank Youtube for the beautiful recommendations too.
What do you feel are the key elements in your music that should resonate with people?
Simpatico: I think the use of the wurley wavey synths is a driving force of all my songs it all has a bend, a detune, and it makes it pleasant to hear. It's about making music beyond just a sonic experience it's about creating a feeling. Most of my songs out right now talk about Love, Nostalgia, Sex, Sunsets, Existentialism, either with the instrumental or with the lyrics it's all part of what comes out. But you know music is subjective and everybody's perception of my music could be different.
What do you think separates you from the crowd of producers emerging right now?
Simpatico: I don't release music constantly trying to catch up with the IG algorithm and the Tik Tok craze, it's just not realistic. I do want to create an amazing song (a HIT if you will) each time I release but maybe that's unrealistic as well.
What is your process when composing a beat? Where do start, and what comes into your head first – the tune, the rhythm or the vibe?
Simpatico:  The vibe, always the vibe. I usually play around with some sexy lush synths and make a chord progression and build from there.
How strict are you with genres? Are you comfortable working with other genres that are outside of your preferred style, if asked?
Simpatico: I'm not strict with any genres if I feel like doing hip-hop or pop tomorrow then that's what it will be.
What key ingredients do you always try and infuse into your production work?
Simpatico:  I always add that tape hiss/vinyl hiss to emulate the olden days of music. Back when you can hold music with your hand.
How much do current popular songs from the radio or club scene influence your music, creative approach and/or production decisions? Is it something you pay attention to, or do you only follow your own template?
Simpatico:  None of it. I follow my own.
Do you have a favorite 'guilty pleasure' song? One that's far removed from your chosen music genres?
Simpatico:  Westside (Right on time) – Kendrick Lamar and Young Jeezy. That's a mood right there.
What were some of the main challenges, difficulties you faced when starting out as a producer and how have they changed over time?
Simpatico: Being not only a producer, but a director, marketing specialist, social media coordinator, graphic designer, website designer, planner etc, it's a lot being an independent producer it's not just making a song and that's it. There's a lot that goes behind the scenes and as an independent producer with no label I have to do everything myself which takes time, money and everything in between. I wasn't aware of this before I started but thankfully, I can do it all now and things have been easier to digest.
What was your first hardware/software set-up as a producer like? Has your setup evolved since then, and what for you is the most important piece of gear in your production process right now?
Simpatico: I used the Edirol UA-25 since 2006 and now I have the Babyface pro (which is super pro). But overall, I still have essentially a basic setup but I do plan to make necessary upgrades in the future.
Which aspect of being an independent producer excites you most and which aspect discourages you most?
Simpatico: Being my own boss. Choosing to do this for a living excites me, the idea of making music and living off of it is just every musical artist dream. Making a positive impact to people's lives with music and being able to travel the world and see that impact. What discourages me: The music industry is a mess and it has been for a while…it's hard to break through the noise…musicians everywhere are still getting bad deals (with labels) …. fake promo companies, bot streaming, lack of genre diversity within the playlisting curators, ridiculously low streaming royalties. I can go on with the discouraging aspects but that's not going to stop me from doing what I love. Also, I started this music career a few months before the pandemic started and that flipped the music world on its head. I can't really tell you how it was before the pandemic started.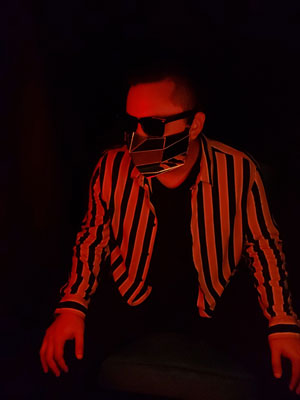 Where do find, and how do you choose, the vocal talents performing on your tracks? And do you also collaborate with other producers?
Simpatico:  I met them all on Instagram actually. Usually if I love their voice or music, I'll let them know and ask if they want to collaborate. Apart from that, we have to see if we vibe or not because talent alone is not enough for me. Yes, I have collaborated with another producer his name is LeDrips he's a French progressive house producer we made a song together called "Miles Away". He's not only an excellent producer but has become one of my best friends throughout this journey.
In general, do you consider Internet and all the social media platforms as fundamental in building a career in music today, and what is your personal relationship with the new technology at hand?
Simpatico: It's really fundamental I owe a lot to these social media platforms for helping me grow. However, the more time I spend on social media the less time I have for music so social media is not for me.
If someone has never heard your music, which keywords would you personally use to describe your overall sound and style?
Simpatico: Golden-Hour-Nostalgic-Electro-Chill-RnB music (laughs).
Could you tell us something about your latest release?
Simpatico:  My latest release was "Time" (ft. Sfundo) it's a beautiful track produced by me and sung by Sfundo aka Ivylesson from my other track he sang on that was called "Tonight." It's a song about making love with some golden hour vibes on it. Stream, save, share (laughs).
Do you have a favorite track among your releases, which maybe has an interesting backstory and/or message that is very important or personal to you?
Simpatico: Yes, I do! It would have to be my song "Somewhere" because it's the first song I wrote before co-writing with Jason Farol. I don't consider myself a singer but sometimes a songwriter. After I produced the track, I got inspired and began writing my own lyrics and vocal melody for it. It's a song about a nostalgic dream, just the feeling of wanderlust about a person and about a place, it's really more than what it is and really Jason captured that for me. He also edited some of lyrics to make it his own and we were on the same page musically and aesthetically. I was going through you know a relationship thing at the time so it was definitely more about releasing emotions which made the song very personal for me. Anyone that resonates with that song just understands the feeling completely and sometimes that can be indescribable and that's what makes music what it is. Music has the power to describe the indescribable.
If you had the choice to produce for any current international artist today, who would that be, and why?
Simpatico:   H.E.R. because she just gives me goosebumps every time she sings.
Do you have a specific vision or goal that you would like to achieve in the near future?
Simpatico: Travel the world after the pandemic is over and relieve my family from financial worries. I'm highly ambitious but I never want to be mainstream famous. I just want to be able to live off of my music. Whether I live a simple life, or a luxurious one, either way I just want to be happy.
OFFICIAL LINKS: WEBSITE – INSTAGRAM – FACEBOOK – SPOTIFY – APPLE MUSIC – SOUNDCLOUD – YOUTUBE
Please follow and like us: