From Bangalore India, Lazie J creates and plays 80's classic rock music with a tinge of modern rock influenced by the greats of 70s and 80s. The band is a joining together of great talents who have been in the music scene for more than 25 years. Lazie J was formed by the duo of Jay Pillai and Manoj who got introduced in their last years of school and from then onward have been together in their rock n' roll journey. 
For beginners, can you please tell us about your band Lazie J. Its current line up and style of music?
Lazie J is classic rock band from India which is an outcome of years of partnership between Jay Pillai (Lazie J – Singer, Songwriter, Lyricist) and Manoj Pillai (Drummer) all the way from high   School years. As a duo we associated with a few phenomenally talented artists across the globe over the years first as The Autumnleaf and then as Lazie J, a long journey for almost 30 years after forming Zephyr and then Autumnleaf and as Lazie J.  Today apart from Jay and Manoj, Lazie J has Dilip Nair who just joined to cover up for the loss due to sudden death of guitarist John Anthony who was one of the most respected guitarists in India. The band also has Jayakumar another veteran guitarist with almost 30 years of Rock music behind him.
Learnt that there is a lot happening with Lazie J these days post our first Interview could you update?
Lazie J – Jay:  Yes there has been a lot going on we had some great time as a band and some memorable achievements that motivate us to move ahead for future years like coming on MTV UK , BBC , Lazie Bison Indian tour ( A Lazie J Collaborative with Canadian Rocker Evan Murray  and Swedish Bassist Johan Dereborn) . We set up own TV Show called Autumnleaf The Big Stage (in a fairly large TV Channel network through which we could help around 50 upcoming bands to demonstrate their talents). a few TV Appearances in popular TVs in India. Appearing on Rolling stone Magazine India, Charting in important Communities like Reverbnation , Broadjam …a lot of radio plays in internet and FM Radios across the world and getting ready to release the next single very soon.  But then we did have a huge loss too. The untimely death of our Guitarist the one of the most respected Axeman in India – John Anthony which hit us hard and took a few months to recover and regroup. Now we are all set to go with our new Guitarist Dilip who is a veteran with years of guitar playing and a few prominent awards for the same to his credit.
That is sad news but yes great to know you are able to come out stronger from the adversities. How did you cope up with the loss and how did you find a replacement for someone who played a great role in your songwriting as a band?
Jay: Replacing a guitarist like John Anthony was next to impossible simply because his presence itself was motivating for each one of us. The creative genius he was can never be matched.  He used to be the big brother to each one of us, But then we need to move on so yes we brought in someone whom we know for years as a great guitarist and has been a critic and well wisher of this band for years, someone who knew and matched our style that's how we zeroed in on Dilip Nair.
Hi Dilip! As you are the new entrant to Lazie J, what made you join Lazie J?
Dilip: Their music. Plus the fact that I've known them for the last so many years sort of made it a little easier for me to finally go with the decision to join them.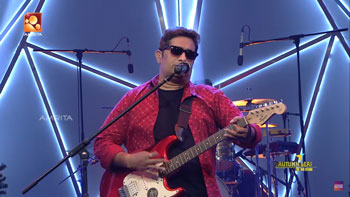 How do you plan to keep up the music style as a new guitarist?
Dilip: This is a really challenging task for me as the guitar work done by earlier guitarists has been nothing sort of phenomenal, and to re-create what they have done might not really be an easy task for me. So I am not thinking much along the lines of "keeping up the music style", rather I am trying to figure out how best I can contribute without ruining the feel of their songs.
As a guitarist, what is your recording and playing gear setup?
Dilip: I was a strat guy, but recently I've been totally falling for the telecaster. So at present, I play a Squier telecaster, which surprisingly is a seriously awesome guitar for the money. Reg pedals, I have a bunch of them and multi-fx too. Depending on the gig, I will end up choosing one of the two, but it will mostly be the latter as it's a lot easier to lug around and manage on stage. I am not into too many sounds and Lazie J's music also doesn't demand that, which again is another reason why I find it easier to gel with them as my idea of sound tallies a lot with their expectations. Reg amplifiers, I currently own an Orange head and cab, but my ultimate dream would be to own a Fender Twin Reverb. Reg recording, I am not all that serious into home recording at the present moment, but if I feel the need to lay down something, I go with the open-source project Audacity. It's simple and gets the job done.
How do you see technology helping you out to get into the musical style or sound of an already established band?
Dilip: Be it sharing a song that has been created or is in the works, be it recording a guitar part for a new song or even an existing one, technology has made all these very easy in the recent times. It doesn't really matter where the band members are, or rather it's not really necessary we are all together in one place to create music because thanks to all the development in technology, we can all do our individual parts and get it all merged into that one final song.
How do you see the whole music scenario out there in India?
Dilip: It's been pretty great in the recent years. Bands are getting great exposure. Some are even getting a chance to play in other countries. Lots of pubs/clubs now have live music regularly. There are big music festivals happening in different parts of India. So all in all, it's a great time for bands I feel.
A year is a long time. I recollect your discussions on Lazie J collaborations, so now what are the future plans for Lazie Bison?
Manoj: We had an Indian tour as Lazie Bison which was really exciting and did a Shows / TV      Shows and Festival. It was great fun. We did manage to record quite a few songs and that would be coming out soon on important platforms for your fans to buy.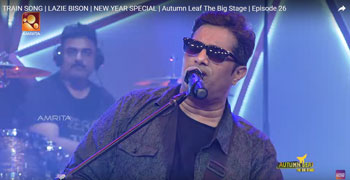 Do you intend to travel outside India and are there plans for doing so?
Manoj: Yes we do have major plans coming up this year. We are seriously working with a few organizer on touring Europe this year. I think that will be the logical next step for us.
What are your new releases?
Manoj: We have quite a few releases coming … in fact as Lazie J and Lazie Bison put together we do have quite a few songs recorded and these are going to be released soon. Releases will start from March 2019 onwards.
As you are now into the TV show as you said, what is the present scope for Independent Music in India? What do you think can be done to further push the movement towards making India a great place for Independent artists from all over the globe?
Jay:  Independent Music scene in India is growing leaps and bounds these years as there is a lot happening over the internet. There are Venues now focusing on good Independent music promotion and we too joined the movement with our own Conceptualized TV show called Autumnleaf the Big Stage in a very large TV network and we did have a good number of bands getting solid exposure through the same.  All being said there is a lot more to cover till we reach a stage like the west where people actually spend money to buy independent music and that day is very near as the talents uncovered are worth paying a lot to listen to.
How do you think Social Media has helped you in doing this? Has it helped?
Of course, for us as Lazie J /as Lazie Bison or as The Autumnleaf Show team most of our steps have been through the internet and if it was not for the internet and independent music community over the net especially the radios we would have been able to move this far So all thanks to Internet and Millions of Independent music listeners who use the net to listen, buy and react to independent music.
I love your passion and the determination on holding on to Independent music as a band and also in setting up a platform for other Indie artists in India. Of all this what do you think is your most memorable accomplishment during this time?
A few like Coming in MTV UK, BBC, or a Few Magazines like Rolling stones Magazine but to me the biggest this time around has been that we are able to set aside the biggest blow we had as a loss of personnel and keep the momentum on …We thank Dilip for joining us at this point as it avoided a lot of energy loss grooming another guitarist however great he is to come to terms with us. We are now ready to take up our tours as planned.
What are you social media pages and do share the links.
FB : https://www.facebook.com/LazieJband
Reverbnation : https://www.reverbnation.com/lazyj3
Please follow and like us: