Hold onto your hats, folks, because Liverpool's music scene is about to witness a seismic eruption of raw, unadulterated talent. Brace yourselves for The Glass Skies, a rising indie rock sensation that's ready to leave an indelible mark on the world stage. These lads have meticulously crafted a sound so electrifying, it'll have you buzzing for days. Imagine a whirlwind of energy, a cataclysmic collision of rock and roll swagger with a touch of indie charm. That's precisely what The Glass Skies bring to the table, and they are more than ready to ascend to the big leagues, armed with a level of proficiency and artistry that's rare to find in such a young band.
At the forefront of this musical maelstrom is John Riley, who ignites a lyrical firestorm that will resonate deeply within your soul. And when he wields his rhythm guitar, the room trembles with anticipation, as if waiting for a thunderstorm to break loose. Guitar virtuoso Lachlan Challoner weaves intricate and hair-raising melodies that will electrify your senses. His guitar work is nothing short of magical, leaving audiences spellbound, craving for more.
The pulsating heartbeat of this powerhouse outfit is Sonny Price. With drumming skills that border on the divine, Price lays down a rhythm so tight, it could tame even the wildest storm. Each beat is meticulously crafted, perfectly timed to induce an eruption of sonic bliss. Last but certainly not least, Ewan McClelland brings the thunderous low end to complete this musical marvel. His basslines possess an undeniable punch, infusing each song with an infectious energy that's impossible to resist. If you haven't caught on by now, The Glass Skies are a force to be reckoned with, and on the 21st of July they release their brand new single, "Honey".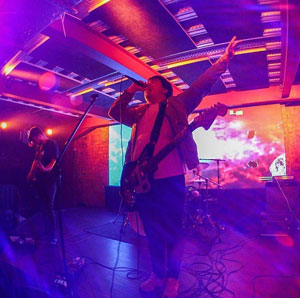 What sets The Glass Skies apart from other indie rock bands in Liverpool?
The Glass Skies: For me it must be our impeccable attention to detail down to the tiniest bit of what we do. I'm not saying other bands don't pay attention, it's just that we tend to take a microscope to everything to ensure that it's exactly the way we want it, be it a tune, a gig or a piece of content. A lot of thought goes into the things that we do, take our gigs in Zanzibar for instance like the Sirens launch where we spotted the LED screen on the stage and put together an incredible visual show perfectly linked up to the music.
Could you share some highlights from the band's journey so far, leading up to the upcoming single release?

The Glass Skies: As a band we all agree the highlight of our year, regularly, is The St Helens Christmas Lights Switch On. To see so many people dancing along to our songs and singing lyrics we've written is always a special feeling. Another one is selling out the Liverpool date of our first headline tour. This show went off like nothing we've ever played before.
How does "Honey" compare to the band's previous singles in terms of style and sound?

The Glass Skies: Honey is by and far my favorite tune to come out of TGS, it's so upbeat in its sound and it's a lot more energetic than our other songs, it's a song that immediately puts a smile on my face in a way not many others do.
How do you think "Honey" will resonate with the band's existing fanbase?
The Glass Skies: Honey, like the rest of our songs are about personal experiences from Sonny and John. It's a song about things that everyone growing up goes through. In the time we've been playing this song the reaction has always been amazing and everyone loves it. To us, it's a crowd favorite.
What are the band's ambitions and goals for the future, especially after the release of "Honey"?
The Glass Skies: Our ambition is to reach as many people with our music as possible. It's always been our plan to not only make it as a band but to do it with our friends as well.
How does the band's live energy translate into their recorded music?
The Glass Skies: We record things pretty much as if we'd play them on stage and we play things on stage pretty much as we record them. We even use the exact same stems for live backing tracks. You get all the energy on stage of the recorded track and vice versa.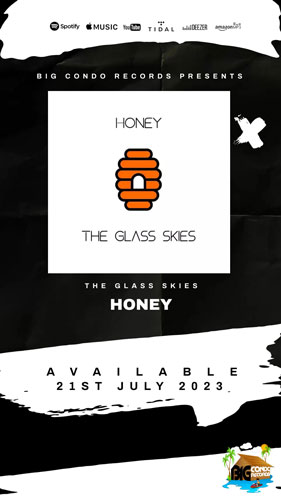 What role does each band member play in the overall sound and dynamics of The Glass Skies?
The Glass Skies: We each bring something special to the band. Sonny and John bring relatable lyrics and memorable melodies. Lachlan is the best musician any of us have ever met. He brings catchy lead lines and impeccable guitar skills. Ewan gives us a new edge with his funky bass lines and like the rest of us, raw energy giving the crowd arena shows in smaller venues. We all have a part to play but we complement each other so well.
Are there any specific artists or bands that have influenced The Glass Skies' musical style?

The Glass Skies: It's no secret that we are all massive fans of The 1975. It's hard to find a band these days that isn't. However, we all have our own influences. John is a fan of brit pop like Oasis, The Stone Roses, The Smiths. As well as acts like Sam Fender and The Japanese House. Growing up Sonny was a fan of Pop punk and still is. Bands like hot milk, Paramore, Green day and neck deep inspired his playing style. Now, like John, acts like Sam Fender, Bruce Springsteen and Courteeners play a big part in his musicality. Ewan was brought around hard rock bands like Foo Fighters and Queens of the Stone Age. These are what bring his big energetic bass lines to the band. Finally, Lachlan is the metal head of the band. Bands like Polyphia, Periphery and Killswitch Engage, have influenced Lachlan to create a playing style that we have yet to see anyone else do.
How would you describe the atmosphere at a typical Glass Skies live performance?

The Glass Skies: It can only be described as raw energy. We pride ourselves on playing each show as if we are playing Wembley. No matter how big or small, every show we walk into wanting to take the roof off.
Are there any plans for a music video or special release event for the single "Honey"?
The Glass Skies: Our music video for this single was done by the amazing Jamie Lee burns. It's available on YouTube and it's one of the best we've done.
What do you hope listeners will take away from "Honey" and The Glass Skies' music in general?

The Glass Skies: We hope that they enjoy it and love it as much as we do. That's the simplest way to put it.
Finally, putting aside the accolades or criticisms that fans or the media may afford The Glass Skies, is there anything about the band, or the music, you think people may overlook, misunderstand or underestimate in any way?
The Glass Skies: Our music is a gateway to people getting to know us as people without knowing us personally. These songs are stories and expressions of who we are as people. We don't want to create music that is just good. We want to create music that people can love, enjoy and whenever they feel something scream from the top of their lungs. We're 4 lads with love for making music together. We're 4 friends outside of the band as well. We go for a drink together; we talk to each other every day. There's no better feeling than being in this band together.
OFFICIAL LINKS: SPOTIFY – @theglassskies
Please follow and like us: