Five-time CMA nominee, Arkansas Americana group Ten Penny Gypsy are riding high with their 2020 full-length sophomore album, "Fugitive Heart", produced by renowned multi-instrumentalist and former Neil Young band member Anthony Crawford. Recorded at Crawford's Admiral Bean Studio in Loxley, AL, the album contains ten original compositions by founding group members Justin Patterson and Laura Lynn Danley. Additional musical contributions to the album were made by Crawford and 2020 Arkansas CMA "Guitarist of The Year" nominee, Buddy Case. Arkansas singer/songwriters Justin Patterson and Laura Lynn Danley had been writing and performing separately as solo artists for years when they decided to form the Folk/Americana duo Ten Penny Gypsy in 2017. That decision changed their fortunes immediately, and put their musical careers onto a new and exciting trajectory.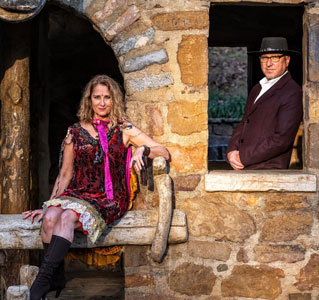 Can you tell us a little bit about where and how Ten Penny Gypsy got together?
Ten Penny Gypsy: We met at a songwriter festival in Hot Springs, AR. We both had been in different bands, had separate solo careers, and had recorded albums with other people over the years. We developed a tremendous respect for each other as people and songwriters, and it wasn't long before we recognized that the combination of our musical styles might create a unique and appealing sound. Eventually, we recorded "Ten Penny Gypsy," our self-titled debut album, and it was nominated by the Arkansas CMA for "Album of the Year" in 2018. That certainly provided us affirmation for the career move that we made.
Who came up with the name Ten Penny Gypsy, and why?
Ten Penny Gypsy: That decision was a collaborative effort between the two of us. Although people today seem divided over everything imaginable, we STILL believe in the kindness and compassion of others. We've seen countless examples of it in our travels. We know that if we were ever stranded and down to our last ten pennies, a stranger would come forward and offer help to these gypsies. It happens all the time, thus our name.
Who were your first and strongest musical influences that you can remember?
Justin: My father raised me on Merle Haggard albums when I was a child. I still love to listen to those. Later, when I first heard the finger-style guitar of James Taylor, it changed everything I believed about music in a moment. I became very taken by those singer/songwriters of the 1970's – Gordon Lightfoot, John Denver, Jackson Browne. Some of that influence can definitely be heard in songs I've written for Ten Penny Gypsy.
Laura: I grew up singing in the church, so inspirational artists from The Carter Family to Amy Grant have had a tremendous influence on my music. I've also been inspired by the music of Joni Mitchell, Karen Carpenter, and Bonnie Raitt. They were definitely pioneers that paved the way for all female singer/songwriters, and it's exciting to follow in their footsteps.
What do you feel is the key element in your music that should resonate with listeners?
Ten Penny Gypsy: Our music is a unique combination of Folk, Country, and Americana sounds, and we believe its authenticity is what resonates with our listeners.  As we release new music into the world, we've learned not to worry about the labels and expectations other people put on our work. We just write and perform in the best way we were gifted to do. I think audiences recognize and appreciate that about our music.
For most artists, originality is first preceded by a phase of learning and, often, emulating others. How would you describe your own development as an artist and music maker, and the transition towards your own style?
Ten Penny Gypsy: All "original" music is derivative to a certain degree. As mentioned above, we were both heavily influenced by the sound of the '70's singer/songwriters when we were growing up. Musically, that often remains the template for what we do today. As we have matured as songwriters, we've been able to successfully combine what has influenced us in the past with what inspires us presently. We can't say exactly when it happened, but the Ten Penny Gypsy sound was born once we found our own voice and became comfortable telling our own story.
Do you ever consider writing a song with current musical trends, formulas or listener satisfaction in mind, or do you always focus on your own personal vision and presuppose that it will be appreciated by a specific audience?
Ten Penny Gypsy: We subscribe to a more individual, stream of consciousness approach to our writing. As songwriters, it is often difficult to explain what that is, or where those inspirations come from. Most often, we run our individually written songs past each other when considering what will become a Ten Penny Gypsy song. Whatever we choose, we trust our audience will love it. But there is no proven right or wrong way to write a successful song. Look at Nashville. The team-oriented, co-writer driven, formulaic approach to songwriting is pumping out hit after hit. We just don't feel like we were gifted to do it that way.
Could you describe your creative processes? How do you most often start, and go about shaping ideas into a completed musical piece? Do you usually start with a rhythm, a narrative in your head, or a melody?
Laura:  I write a lot of poetry. That is how the songwriting process often begins for me. Most of my lyrics read like they could have come straight from my journals. Although I'm not sure exactly how it happens, turning those thoughts into melodies is always a magical process!
Justin: I often start with a finger-picked chord progression on guitar from which I can extract a melody line. I keep a short-list of song titles handy. Growing up as an only child, I developed a very keen imagination, which seems to have served me well in developing storylines for songs.
Could you describe how the album "Fugitive Heart" came into being initially?
Ten Penny Gypsy:   Coming off our well-received, self-titled debut album, our goal was to reach a broader audience with our follow up, and we felt we had some great songs to do that with.  "Road to Memphis", "Highway 65", and "Brick by Brick" were popular songs from our setlist that we had chosen not to include on our first record. We definitely wanted to get those songs on the new one. Then, there were newer ones written in the interim to be considered. We took about a dozen songs into the studio, and settled on ten that stylistically fit our vision for "Fugitive Heart."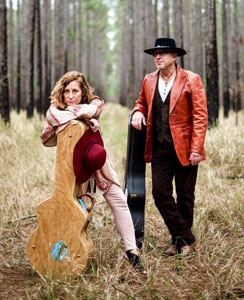 How would you describe the overall sound of the album to any potential new fans?
Ten Penny Gypsy:  "Fugitive Heart" is a distinctive blend of Folk, Country and Americana sounds. The addition of 2020 Arkansas CMA nominee Buddy Case on guitar infused some of the songs with a Country/Blues flavor that was not as prevalent on our debut. Lyrically, this album explores the uncertainties caused by separation, which certainly is a relatable theme to listeners in 2020-2021. Musically, the songs are bright and upbeat, so there is also an underlying sense of optimism that shines through on the record.
Did you use any particular instrumentation and/or recording techniques on "Fugitive Heart" to create your sound?
Ten Penny Gypsy:  We relied heavily on the input of our producer Anthony Crawford (Neil Young, Steve Winwood, Dwight Yoakam) to help shape the sound of this release. He is a world-class multi-instrumentalist with a keen ear for arranging songs. He made the astute suggestion that this album should be a bit more upbeat and driving than our debut was. While all songs in the studio began with our simple acoustic guitar track, it was Anthony who crafted many of the instruments around it to achieve the feel we were looking for. Acoustic guitar, mandolin, lap steel, and piano are very prevalent on "Fugitive Heart."
Does Ten Penny Gypsy work with an established set of collaborators, or do you switch production and recording crew according to the project at hand?
Ten Penny Gypsy: We have been blessed to have Anthony Crawford and his wife Savana Lee (Sugarcane Jane) as our production team for the first two Ten Penny Gypsy albums, and hope to continue that partnership going forward. We became acquainted with them at a music festival in Alabama. Anthony is a veteran of the music business having toured with Neil Young (The Shocking Pinks, International Harvesters), Steve Winwood, Dwight Yoakam, and others. Savana spent time in Nashville, and had her own recording studio there. Anthony's musicianship and production skills have given us well arranged songs that are sonically appealing. Savana has been instrumental in our marketing and branding campaigns. They've changed everything for us. We will always be grateful to them.
Are there any interesting behind the scenes anecdotes from the recording sessions for "Fugitive Heart" that you can share with us?
Ten Penny Gypsy: We now consider Admiral Bean Studio on the Alabama Gulf Coast our home away from home. "Fugitive Heart" was a great recording experience for us, and the memorable stories are too many to tell! We were saddened this past September when we heard that Hurricane Sally had taken some liberties and damaged the studio significantly. We are happy to report that Anthony and Savana have built it back better than ever, it's up and running, and we can't wait to get back down there and record some new tunes.
13. What were the main compositional, performance, recording, and production challenges you came across on the album?
Ten Penny Gypsy:  We came into the recording sessions for "Fugitive Heart" with a couple of well-written ballads (Lonesome No More, Lovely Melancholy) that we hoped to include on the record. It was decided that we would alter the arrangements of them to better fit our attempt at a more upbeat album. Inside the studio, the new, faster tempo of these songs was a challenge to us vocally and musically. But we delivered some great takes, and both songs in their new form sound spectacular on this record.
Is there a particular song on "Fugitive Heart", on which you feel you delivered your most perfect performance, technically and emotionally?
Justin: Fugitive Heart, the title track, has always been one of my favorite compositions. The lyrics are so compelling, and I believe it's some of the best vocal work Laura and I have done together. Anthony Crawford's arrangement of the song is powerful, yet elegant, as the acoustic guitars really shine. One national writer commented that this song checked all the boxes for what he looks for in a title track – a defining statement that ties the rest of the songs on the album together. That is very gratifying to hear.
On the other hand, which song on the album would you consider the most personal and dear to you, lyrically?
Laura:  Your True You is a song I was asked to write by a friend of mine who was in pain, and at a crossroads on her quest to find her truest expression. As mentioned above, I wrote the song as a ballad, but Anthony Crawford introduced a bouncy beat and some mandolin to the arrangement, and it really blossomed into an infectious Americana number. It is so meaningful to me that the song's message of hope has touched so many hearts around the globe.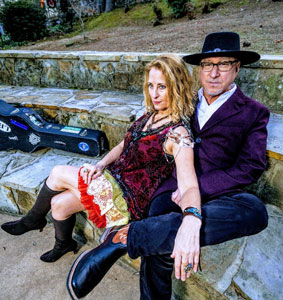 Apart from the aforementioned songs, in your opinion, what would you consider particular highlights for fans to watch out for on the album?
Ten Penny Gypsy: The most satisfying feedback we have received through national reviews of "Fugitive Heart" is that every song on it seems to be somebody's favorite. That confirms to us that it is a tremendous product from start to finish. Besides the songs mentioned above, Road to Memphis, Making Headway, Highway 65, Brick by Brick, Mexico Flyer, and Train Won't Wait for Me have all been spotlighted as notable songs by music writers. We can't encourage your readers enough to give this album a listen all the way through.
In retrospect, would you affirm that "Fugitive Heart" completely reflects your initial artistic vision for the album, and that its final production came out exactly as you intended?



Ten Penny Gypsy:  Absolutely! Affirmed! We wanted to reach a broad audience with "Fugitive Heart," and that has certainly happened! The album spawned a #1 song on the iTunes Country Sales chart in South Africa with Your True You. Our video for Lonesome No More has medalled at several international film festivals. The album and various songs on it ended up on many "Best of 2020" lists. Music writers have commented that there is no "filler" on "Fugitive Heart", and not one song seems to sound out of place. That is incredible! The timing of the album and its message couldn't have been better, considering the circumstances of 2020, and we are so honored that the response to it has been so overwhelmingly positive.
Besides being an expression of technical artistry, personal narrative and pure entertainment, what's your view on the role and function of music as a political, cultural, spiritual, and/or social vehicle?



Ten Penny Gypsy: We firmly believe that music has been, is, and always will be a great unifier of people, and an ever-present vehicle for change. From CSN&Y's "Ohio", Lee Greenwood's "God Bless the USA", Marvin Gaye's "What's Going On", history is full of anthems that inspired movements. Our own Laura Lynn Danley has written an incredibly moving song called "Facilitate the Getalong" that, if heard by enough people, might change the world! At no time in history has there been a greater need for unification, and we expect songwriters and musicians will continue to let their voices ring out for the sake of a better humanity to come.
What would you consider a successful, proud or significant point in your career so far?
Ten Penny Gypsy:  We believe the most significant moment in our career was when we received news in 2018 that our self-titled debut album had been nominated for "Album of the Year" by the Arkansas CMA. It was a real surprise to us, but provided validation for some difficult career decisions we had made. On the night of the awards, we found ourselves backstage with Country Music legends like Tanya Tucker, Collin Raye, Barbara Fairchild, and the families of Johnny Cash and Glen Campbell. We felt a real sense of belonging, and it was gratifying to realize our perseverance had paid off. It certainly boosted our confidence going forward, as well.
In closing, what do you find most rewarding about what you do? And do you have a specific vision or goal set in your mind that you would like to achieve in 2021?
Ten Penny Gypsy: It's most rewarding to us knowing that fans have heard well-written and entertaining songs, either at a live show, or by streaming one of our albums. Most importantly, we hope they feel a heart to heart connection with us through the songs, and that our music adds some joy to their lives. That's definitely needed today! As for 2021, there are always new songs to be written, and we hope to get back into the studio soon. Live shows, maybe? Just a return to normalcy would be nice in the new year, don't you think?
OFFICIAL LINKS: WEBSITE – FACEBOOK – INSTAGRAM – TWITTER – STUDIO – PRODUCER
Please follow and like us: