Pete Atkinson b.k.a Fabp aka Fabpz the Freelancer attended I.A.R in NYC. Pete engineers and makes beats using Reason with Synths and Protools. Hip Hop & Dancehall is Fapk's main genre, who cites his major influences as being Busta Rhymes, LL Cool J, Jay-z, Bounty Killer and Lady Saw. He started to produce beats and rhymes officially in 2006 after attending I.A.R for the first time and at that point decided to make music his career. A member of ASCAP, Fabp has launched his own record label called X-Calade Promotionz. He is a genuine and true do-it-yourself artist that takes care of all things himself. In the process he has released a plethora of singles and mixtapes to maintain his bursting at the seams catalog.
How long have you been in the music business and how did you get started in the first place?
Fabp aka Fabpz the Freelancer: I have been going hard official at producing, Writing and recording by joints since 2011. I got started shortly after High School when I recorded my first song at Studio 57.
How did you get to the moniker Fabp aka Fabpz the Freelancer?
Fabp aka Fabpz the Freelancer: Ok back in the '90s I was known as Fabulous P. until 2001 when I change it because I noticed that other artists had the name. I wanted a name that no one else had so I gave birth to Fabp aka Fabpz the Freelancer.
Who were your first and strongest musical influences that you can remember?
Fabp aka Fabpz the Freelancer: My strongest musical influences is from all my brothers and sisters of Hip Hop, Dancehall and Heavy Metal there is some many names too much to mention.
What do you feel are the key elements people should be getting out of your music?
Fabp aka Fabpz the Freelancer: The key elements the fans will get form my music is a solid vibe, a solid vibe that motivates them to break out the box to be original and open-minded to make sense out of nonsense.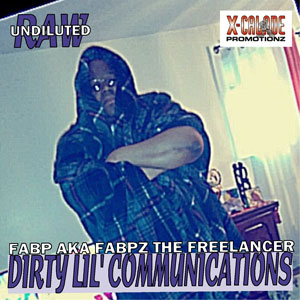 What do you think separates you from the crowd of artists emerging right now?
Fabp aka Fabpz the Freelancer:  I think what separates me from the crowd of artists right now is that I'm not afraid of being original and I'm not afraid to experiment, When I say experiment I mean doing my own originally and not use other people beats to demonstrate my craft.
Do you currently have a preferred song in your catalog, and why is it special to you?
Fabp aka Fabpz the Freelancer: Nah if I was to say I have a preferred song in my catalog I would be lying to you because I'm feeling all my joints bad or good they all give me a special vibe that hardcore feeling.
When writing a new song, where do you usually start first – with the lyrics or the beat?
Fabp aka Fabpz the Freelancer: My writing process usually starts with me creating the beats first then I would freestyle the lyrics.
What would you consider a successful, proud or high point in your career so far?
Fabp aka Fabpz the Freelancer: So for one of the high points of my career is when my songs started to get featured on the mixtapes of the Legendary Dj Ron G. and also when my songs got download over 5,000 times on various websites.
What has been the most difficult thing you've had to endure in your life or music so far?
Fabp aka Fabpz the Freelancer: In My life I had to endure people criticizing my music by talking bad about my writing and production skills knowing that they personally don't have RIAA certified Plaques to show me that they know what they're talking about when their trying to diss my joints.
What key ingredients do you always try and infuse into your songs, regardless of style or tempo?
Fabp aka Fabpz the Freelancer: The key ingredients I like to add to my music is instruments that sounds dark when it is played like heavy bass and heavy metal strings with some ghostly synth because it sets the pace for what is to come with the lyrics.
Do you produce all the beats and write all the lyrics on your songs or do you collaborate with outside sources in any of these cases?
Fabp aka Fabpz the Freelancer: At this time I'm currently the composer and writer for all my joints produced by X-Calade Promotionz.
Which aspect of being an independent artist and music label excites you most and which aspect discourages you most?
Fabp aka Fabpz the Freelancer: Being an independent artist is exciting to me because I'm my own boss from top to bottom from the creation to the registration of my songs to the realease. But when it comes down to collaborating with other artists in this it gets muddy so I would say it discourages me the most.
When did you launch X-Calade Promotionz? Is this a vehicle for your music only or do you also help other artists?
Fabp aka Fabpz the Freelancer: I launched X-Calade Promotionz back in 2003 but made it official in 2006 after I graduated from the institute Of Audio Research. The label is basically for me to get my music out to the masses.
Are you happy about how the music business works now, or is there something you would like to change?
Fabp aka Fabpz the Freelancer: I'm happy with it now because as an independent artist I can push my music straight to the fans and create my buzz because back in the days I would send out demos to only get rejected by labels and radio but not now thanks to the Internet your boy can get heard.
If someone has never heard your music, which keywords would you personally use to describe your overall sound and style?
Fabp aka Fabpz the Freelancer: The keywords I would use to describe my sound is Underground, Raw undiluted, Hip Hop, Rap.
Do you consider Internet and all the social media websites as fundamental in building a career in music today, and what is your personal relationship with the new technology at hand?
Fabp aka Fabpz the Freelancer: Yes I believe the internet and social media is fundamental because I use it every day 24/7 to promote my music to fans all over the world in places like the United Kingdom countries in Africa japan and the United States it also exposes my music in places I never heard about true story.
Tell us something about your latest release and where fans can find it.
Fabp aka Fabpz the Freelancer: Ok my latest release is an album titled "Tha Internet Sensation" it has 12 tracks on it and it can be found at www.X-CaladePromotionz.com.
What is your relationship with visual media? Do you think videos are important for your music? Do you have a video you would recommend fans checkout so they can get in to what you're doing?
Fabp aka Fabpz the Freelancer: I really don't have that many videos online but I do have a dope one on YouTube, titled "No No Way" and I have a live video I did at an open mic in New York City titled "Till I Flow Dumb".
What's your thoughts on the current Dancehall, Hiphop and Urban music scene in relationship to past eras?
Fabp aka Fabpz the Freelancer: I feel and I'm happy these genres is still alive we have come a long way from Kool Moe Dee to 6ix9ine and from Shabba Ranks to Popcaan but I'm concerned about the prices of music why is it a video game cost $30.00 to $40.00 a pop and an Album by top recording artists only cost $9.99 it crazy to me but I'm not complaining I'm just making an observation.
Do you only create and work in a studio environment, or do you also find time to perform live?
Fabp aka Fabpz the Freelancer: Nah a majority of my recordings is done in a studio settings and every now and then I would record a joint live at an Open mic.
OFFICIAL LINKS: WEBSITE – TWITTER – INSTAGRAM
Please follow and like us: