Hustle Alumni is an independent label-distribution that was established in 2019. The label was founded by CEO Richard (RICH) Trotman. The difference between Hustle Alumni and other labels is that artists have freedom and independence. Artists will maintain 100% ownership of their publishing. Marketing and branding is essential to an artist's career and Hustle Alumni take pride by assisting them to reach their goals with consistent promotion. By doing this, the artist has more time to focus and perfect their craft.
Where did you grow up, and prior to starting the record label, what were your implications in the music scene?
RICH: I grew up in Toronto, Ontario, Canada on the east end of the city. I was born in Scarborough then later moved out to the suburbs further east of the GTA (Greater Toronto Area). After I completed high school, I started to move around throughout different provinces in Canada trying to find myself and my purpose in life, going through different phases. Music has always been a part of my life. As a kid growing up, my family would be playing R&B and soul vibes, music out of the Caribbean, old school Hip Hop, etc. For an example, I would hear Marvin Gaye, Janet Jackson, Al Green, Mary J. Blige, Usher, Jon B, Shabba Ranks, Super Cat, Mighty Sparrow, Jay-Z, Nas, 50 Cent, just to name a few.
A high school friend by the name of Chris Phantom was part of The Remix Project located in Toronto. It is a program to help young creators who have aspirations to flourish in the entertainment business. He use to bring me around the facility time to time and that's when I saw an actual recording studio. I would see the process of how an artist records and the engineers work to perfect the sound. He use to even bring me around his own personal engineer, who at the time had his own home studio so I would always see the process on how music was created. As time went on I started to encounter different engineers and studios. I would notice everyone works differently. Everyone has their own process on how they do things.
Once Chris completed The Remix Project, he got the opportunity to put out a mixtape, "The Province Prophecy" which was hosted by a popular local DJ in the city. This was before streaming, this was the mixtape era. I was happy for him and supported him. I was trying to help promote it and that's when I came up with the Hustle Alumni name, which was the year of 2010.
How did you decide that you wanted to go into the music business seriously?
RICH: Another high school friend, DBx2 and another artist by the name of Money Mitch released a track called "Traffic" back in 2018. I had seen the positive response they got for the song so I started to repost their music on my Instagram page and support the O Fam movement. Then one day last year of July 2019, I was brainstorming on starting my own company in the entertainment business because I know I have an ear for good talent and then that's when I decided to actually take this role on, being an entrepreneur seriously. Like I said I came up with the Hustle Alumni name in 2010 but I felt I wasn't educated enough on the business side of things. I decided to take the initiative and educate myself. I'm still learning something new everyday til this day. Knowledge is power.
Did you have a clue as to what aspect of the business you might want to be involved in at that time of that decision?
RICH: Yes I knew I wanted to be behind the scenes and use the resources I have to the help the artists I'm affiliated with to succeed. Also it would be a good for my company if I present a product that the consumer will love.
How did the label name "Hustle Alumni Music" come about?
RICH: The word Hustle is self explanatory. If you have a vision and you want to make that vision a reality, you'll do what you have to do to achieve it. Alumni is when a former student has attended or graduated. The artists I connect with, I want them to graduate and be future entrepreneurs so they themselves can pay it forward to artists they come across. Show them to always invest in themselves. Invest in other different types of business beyond music. That's the meaning of Hustle Alumni to me, a circle full of successful businessmen or women. That's a real empire in my eyes, if that makes sense!
There are many independent record labels in the marketplace right now. Can you explain what defines "Hustle Alumni Inc." from the rest?
RICH: Hustle Alumni builds its name with authenticity and versatility, both traits that can be used throughout all aspects of life. All the music is real. I want people to have that special feeling or moment when they hear a song. I like music I can relate too and turn on to listen too 10 to 20 years down the road. I put myself in the consumer shoes. That's mindset I have. That is what will make Hustle Alumni stand out and be successful.
With any artist you might sign, what are some of the principal elements that can make you get excited enough about them?
RICH: An artist has to be dedicated and serious. Nobody likes to waste energy, money and time. An artist has to be willing to challenge themselves and experiment with different sounds. Read and gain more knowledge. They will learn to play with different words or rhyme patterns. Along with being authentic, it'll make him or her have a sense of balance. It'll show the versatility in their craft. All of these things is part of artist development in my opinion. They also have to be willingly to invest in their product. I would not invest my services in anyone that is not willing to invest in themselves. I always say don't focus on the short temporary money, focus on building the foundation then you can enjoy the fruits of your labour. That's when the real profits come.
Are you happy to work with acts that still need more material and expertise before going onto the marketplace or do you only want those who come to the party with a full arsenal ready to go?
RICH: It doesn't matter as long as whatever music he or she has, can appeal to the public. At the end of the day good music will always speak for itself, alongside some great advertising and marketing campaigns.
How important are genres for "Hustle Alumni Inc."? Are you concentrating on specific styles to promote?
RICH:  I am open to working with artists of different genres. I believe if you have a variety of sounds, you give the consumer options.
When "Hustle Alumni" signs an artist, do you get involved in their choice of producers and music, or do you tend to simply facilitate their independent artistic choices, and just concentrate on promoting their work.
RICH:  I let the artist do their thing majority of the time. I will share my opinion and give some guidance. Other then that I just focus on promoting the artist and the product
Is it true that signing with "Hustle Alumni Inc" is considered an open-ended partnership with the artist as opposed to an exclusive contract?
RICH:  Hustle Alumni will partner up with an artist and we agree to a percentage split for the services given to help the artist elevate. The artist will maintain 100% ownership of their publishing. With the artist owning their publishing, they collect more royalties. Both sides will maintain their freedom and independence
Can you talk about the most important artists and/or releases currently on the label?
RICH: I recently released 2 singles with 1TakeZayee from Orlando, Florida, who is the first featured artist with Hustle Alumni. "No Hook" & "Knock It Off" is on all streaming platforms. More new music and visuals is coming soon!
Over and above the music releases, what's your development involvement with each artist? Do you attempt to help or benefit them in any other way besides simply releasing their music?
RICH: Yes, I'll always share the knowledge I obtained throughout my life with an artist. If I take a liking to that artist, I will genuinely want to see them win.
Which aspects of being an independent record label excites you most and which aspects discourages you most?
RICH:  I love being independent because you have freedom to whatever you want and not take orders. The process takes a bit longer to make it in the industry but I do not let it discourage me. I rather take things one day at time and continue building
Can you explain the philosophy behind the "Hustle Alumni Inc" motto "The Future Is Here"?
RICH:  That is me being confident in my business and the product I am distributing. As fan of music, I like some of the music I hear today but a lot of it is repetitive. I want to present different styles but keep it authentic always
What would you consider a successful, proud or significant moment in "Hustle Alumni Inc" existence so far?
RICH: I am proud of the fact I have gotten the opportunity to network and connect with people who are successful in business overall. I love getting the knowledge and applying to my business. You don't have to give me money, but if you share some valuable information then I will know what to do with it
What has been the most difficult thing you've had to endure in your quest to create and maintain a successful record label so far?
RICH: I won't say it is difficult but when you are a new business in a specific field, getting people to buy into your brand is always a challenge. I am willing to accept that challenge and challenge myself to get the people to believe in the Hustle Alumni name by spreading it to the masses, being consistent and utilizing different marketing strategies
What's your view on the role and function of music as political, cultural and social vehicles – and is the label actively involved in promoting these values, or are you predominantly interested in the entertainment aspect of music?
RICH:  I grew around family that always gave back to the community which is something I would love to do and promote. It'll show my appreciation to the people who support the Hustle Alumni brand.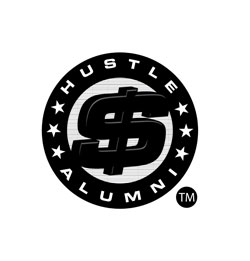 Hustle Alumni Inc also plan on creating programs for the youth who are caught up in the negativity associated with hardships. Could you tell us more about this endeavor, as well as the programs for incarcerated men and women who don't have opportunities due to their circumstances?
RICH: Yes, this is something I would also love to do. People caught up in the system are usually forgotten about. Some of these individuals are good people who caught bad breaks. Both real estate and the skill trades are industries that are growing rapidly and need people. Both are very beneficial if you can educate and dedicate yourself.
Could you tell us about the music scene in Toronto and throughout Canada?
RICH:  There is a lot of talent artists out of Toronto and other provinces in Canada. In the past Canada has seen a lot of artists rise and have major success. All eyes are on Canada and the skies are the limit for everyone to be great
What do you find most rewarding about what you do? And do you have a specific vision or goal that you would like to achieve in 2020?
RICH: It is rewarding when I meet people and they tell me I will be a very successful businessman. They support my idea and my plans. I accept the positive vibes always and block out the negativity. My goal overall is to be a powerhouse as an independent label and use the success of music to get into other things outside of music.
OFFICIAL LINKS: WEBSITE – INSTAGRAM – TWITTER – FACEBOOK – TIKTOK – SPOTIFY – APPLE MUSIC – SOUNDCLOUD – YOUTUBE
Please follow and like us: