Consider that "Copas 2016 Americana Deluxe" is an album released by a band who played their first gig on March 3,1974 at Club Le Cheval in Baker, LA. Most newly started modern-day bands wouldn't have lasted until Easter of that very same year. Consider that along the way to this new release, The Copas Brothers has opened concerts for Jimmy Buffet, Jerry Jeff Walker, Doug Kershaw, Hank Williams, Jr.,Waylon Jennings, Doug Kershaw, Tracy Nelson, The Atlanta Rhythm Section, Asleep at the Wheel, Tom Waits, and many more.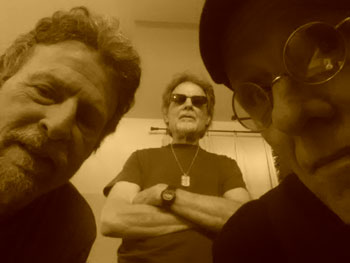 Most newly started modern-day bands have opened for Skype via a webcam from the comfort of their homes. Consideration is always a wise thing dear friends especially when evaluating music, and the makers of such.
"Copas 2016 Americana Deluxe" is an authentic trip through Americana music by a band who know how to deliver emotional wallops at every turn, or kick up a righteous storm. The album also includes the song "Motion" written by Allen Troussaint and  "Honky Tonk Downstairs" written by  Songwriters Hall of Fame member, Dallas Frazier.
If this is your genre, then The Copas Brothers are highly addictive; people have been hopelessly hooked after just one listening….like I was. Besides their infectious music and melodies, it's a great thing when the lyrics actually mean something, and the depth and allusion here show these folks do their homework.
Right off the bat, when you hit play on the very first song, "Wondering", it is difficult to pinpoint what the The Copas Brothers' strongest aspect is. All are great; the lyrics, the music, the vocals, the energy….I could on and on. That there is hope that rock n' roll will prevail over "music" that involves nobody singing or playing a musical instrument, is clear on "Megs Wall".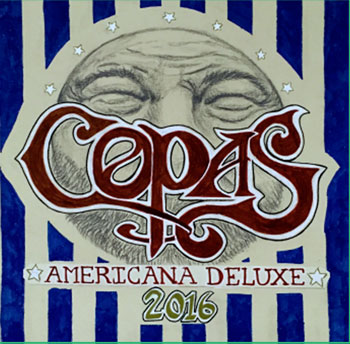 If you don't know the song, a quick search on the internet will help you find many versions of "The Honky Tonk Downstairs", by disparate bands such as Poco, Nazareth, Suzi Quattro and George Strait. To be honest The Copas Brothers' rendition of the track sits like a glove among these.
Given the current style-over-substance emphasis in entertainment today, I fear this band's quixotic efforts to actually make music that matters, instead of sounding loud in your mother's Suburban, will go unheralded. And that's a pity, considering the smooth and beautiful musicality The Copas Brothers bring to the tracks "Full Moon", "Love Not Easy" and "Olive Branch".
I think the band knows that too, so they kick up a real fuss with "Yambilee", "Social Media Star", just to grab your attention. Lots of quality songwriting, singing and caring can only lead to songs like "Motion" and "Her Name is America".
The lyrics, the melodies, everything about this album is nearly flawless. The Copas Brothers are storytellers who blend love, folklore, urban legends and stuff most won't touch anymore. One can chart an arc of their experience and maturation process over the years. Today, they still have edge, but it is accompanied by a depth of sensibility that most musicians couldn't touch.
OFFICIAL LINKS: WEBSITE – CDBABY – SPOTIFY – FACEBOOK  
Please follow and like us: