Nona Brown's new album "Songs from My Journal, Vol.1" puts a lot of soul into gospel music. The album consists of just six songs but leaves you on a content note. From the opening track, "Sweeter" to the albums close with "My Thanks," the album wastes no time driving a message of love, faith, and hope. Nona is a phenomenal singer and each track is superbly produced with masterful musicians. Nona Brown's "Songs from My Journal, Vol. 1" is a work of art and a fascinating expression of what it means to spread the Lord's message.
Nona Brown is answering God's call by releasing music with a message of hope. Her new album "Songs from my Journal, Volume 1" was released on November 5th, 2019 and encourages her listeners to find a little more faith and love. The first single, "We Are Healed" was met with praise from fellow believers and critics alike. Tuned Loud Magazine called the song "Powerful Worship!.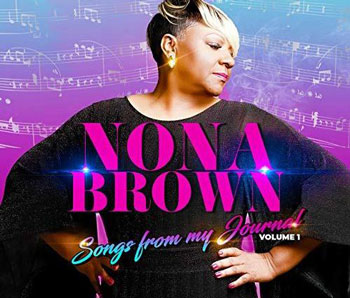 A native of the San Francisco Bay Area, Nona's musical journey spans over 30 years, working with The Fray, Lenny Williams, Pattie LaBelle, Stephan Jenkins and Mickey Thomas. In addition, Nona's gospel music roots led to many wonderful opportunities such as working with Josh Groban as choir coordinator for the Northern California tour, guest vocalist and composer on three national recordings of the Gospel Music Workshop of America (GMWA), guest vocalist at Oprah Winfrey's Legends Ball and until he passed, group member of gospel music legend Edwin Hawkins and the New Edwin Hawkins Singers.
Nona is very active in the music community and has served as Vice President and Board Member of the San Francisco Chapter of the Recording Academy. Her recent awards include Trailblazer Award from the Equality International Film Festival, The Northern California Entertainers Music Awards (NCEM) Female Gospel Artist of The Year, In The Spirit Award, Black Music Association People's Choice Award, and Bay Area Gospel Music Awards Female Artist of the Year and three Hollywood Music Award nominations.
Her new project, "Songs from my Journal, Volume 1" is not the beginning for Nona Brown. In 1996 she recorded her first Gospel CD entitled "I'll Sing My Song" and the songs and messages are still powerful today. Teaming up with multi-GRAMMY Award winner Edwin Hawkins as the producer of her new CD was an amazing start for the project. Sadly, Edwin passed away before completion. Although this was a huge emotional blow to Nona, she continued the journey and recorded the project live at South Bay Community Church in Fremont, California on September 22, 2018.
The new project was released on November 5, 2019, and spent two weeks on Billboard's "Gospel Album Sales" Chart, ranking #14 the first week and #21 the second week. Loaded with melodious songs composed by Nona over the last 20 years, the project also features. Lynette Hawkins-Stephens, Ashling Cole Tracy Perrilliat, Mark Brown and Patrick Sturgis, who help Nona weave the melodies and tell stories of endurance, faith and love. The name Nona Brown is definitely on the rise.
OFFICIAL LINKS:
http://www.nonabrown.org/
http://smarturl.it/NonaBrown
Please follow and like us: