Singer, songwriter and performer, Natalie Jean, has released her latest track – "He Loves Me". The award winning songstress and voting Member in the Recording Academy (GRAMMYS), who has already totaled 70 nominations for various musical awards, was also the Gold Medal Winner in the 2017 Global Music Awards for Female Pop Vocalist. She has performed at many venues in the MD/DC area, while making an impact in LA, New York, Nashville, and North Carolina. Natalie has 5 albums and a string of single releases neatly holding her catalog together. The words in "He Loves Me" are beautiful as sung by this obviously God inspired and Jesus blessed woman who is on a mission that lifts this song up making it a transcending experience. Natalie's emotion and conviction is penetrating and her sweet soaring vocals are in prime form here.
The song is extremely soulful and inspirational and starts off slow, building up to riveting climaxes which showcase Natalie Jean's vocals exquisitely. "He Loves Me" gives gospel and worship audiences a chance to hear what secular listeners have known for some time now.
The real vocals, the real poise, the real personality of an independent songstress on the cusp of finding widespread success. Truly an experience, especially for those who have grown accustomed to discovering the weak reality of some of their favorite artists.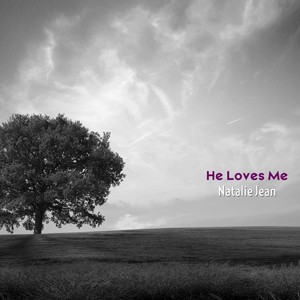 Amidst the innovative guitar picking and keyboard runs, Natalie does something vocally more valuable and sustaining —she returns to the core melody of a song. She makes it so that folks can sing her tunes and therefore come back again and again.
When thinking of premiere female vocalists who've delivered timeless music that has ministered to our souls, the name Natalie Jean can now be added to that list. With "He Loves Me", Natalie has proven she's a multi-talented woman of God with a word of encouragement to share.
I would be expecting the song to be impacting radio in a major way. Natalie's vocal performance reaches to the core of the believer, as she expresses the gift of God's healing power and touch. The song is just so rich.
It is an experience of pure worship without the over dramatization, as Natalie effortlessly delivers the song with every lyric flowing clear and beautifully, especially on the chorus: "I am everything that I'm supposed to be, all because he love me. He loves me." The song speaks to the believer who shares this worship experience.
Natalie Jean is not one of those average whittled singers whose diminutive vocals are often swallowed by the latest beat.  Rather, on "He Loves Me" she holds back no punches when she sings. In her soaring melisma she sends us first class on a bullet train straight into her reality.
Her spirit is welcoming and a testament of a true love for God. I have admired Natalie Jean's voice ever since I heard her for the first time, a few years ago. I am always so glad when she presents another release. And I always think: "This one is the real deal!"…until the next one comes along, of course. For now "He Loves Me" is the real deal!
OFFICIAL LINKS: WEBSITE – REVEBNATION – FACEBOOK – TWITTER – SOUNDCLOUD – INSTAGRAM  – YOUTUBE
Please follow and like us: