One part distortion, one part melody, and two parts face-melting guitars. "Living in the Shit Age" is a very uncomplicated album, with only really having guitar, bass, drums and vocals throughout. That's the way it should be though and anything fancy would just ruin the album. When people drop the needle on the record, insert the CD or click play on their smartphones and hear the distinctive roar of dense and distorted guitar on this recording a great number of them will be shuffled back into another musical era. This nineties music for the twenty-first century, which should sound awful, but it's really bloody good. We could all do with more noise in our lives, it helps you forget about all the real issues in this world of ours.
The songs on "Living in the Shit Age" have that peculiar quality that makes them sound wonderful and fresh and simultaneously take you back to 1992, broiling with grunge, punk and alternative rock sounds. The eight songs on this album sound razor sharp, appropriately noisy, and ultimately a product from three guys called Mark Adams Son Of Bill, and who have finely honed their craft of songwriting into an original and distinguishable blend of guitar-rock greatness.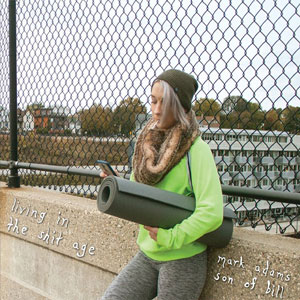 On the first listen, no single track jumped out at me. Perhaps I was distracted as I was cooking dinner, but other than a couple of cool guitar riffs and rolling basslines, nothing grabbed me. Then a couple of songs began to stand out, particularly the grungy goodness of "Piss Test", the great guitar work on "I Don't Wanna Be Here Really" and the heavy riffage of "Right There With Me". Mark Adams' vocals also seem to be exceptionally strong on "Dirt Gun" and "Good Things Come".
While Mark Adam's guitar, alternating between driving riffs, and squalling, dissonant noise-rock as well as occasional quiet passages, is the main attraction, Simon Beno's bass, melodic, highly distorted and often playing thick notes, compete for attention.
Meanwhile, Spencer Powers plays the drum parts in a very creative fashion, resulting in a unique version of the standard power trio format. This record is crammed into a series of sonic throat punches. It seethes and rants, and is completely unbridled.
"Living in the Shit Age" is not for the faint of heart, neither musically nor lyrically. It is, however, absolute artistry, direct and unabashed. This is a great, great record that everyone with even a passing interest in what is known as alternative rock should own.
This is what every other indie band pretty much aspires to, or in my opinion, should aspire to. These guys bring the same devil-may-care rawness as did bands like Husker Du, Sonic Youth, Dinosaur Jr and The Pixies, back in their heyday. If you like grunge mixed with alt-rock and a dash of punk then Mark Adams Son Of Bill is your kind of band.
Bandleader Mark Adams who has written all the songs and lyrics says: "I bring songs to the table with a pretty good idea of what they are, and then we start working them out as a band, and the other two guys finalize the idea and improve upon it by typically expanding on my rough thoughts of what the drums and bass should kinda be doing…  I don't like happy songs so I don't usually write them. They bum me out."
Mark Adams Son Of Bill seem to come out of another era, taking its sound and attitude as a starting point but breaking free of its rigid, limiting constraints, and turning it's aggression and anger into something more expansive and melodic, with losing its core elements.
OFFICIAL LINKS: BANDCAMP – CDBABY – YOUTUBE – FACEBOOK
Please follow and like us: