The 25-year-old model, actor and music artist, Koda aka KodasWRLD, was born in Boston and moved to his current location at a young age. Growing up, he faced challenges and found himself in and out of jail as a teenager, but music provided an outlet and a purpose. Over time, Koda honed his craft and recognized his potential as a musician. At the age of 22, he made the decision to pursue music as a career and has since made strides in the industry. Koda has performed at various venues and has even landed commercial gigs as a model. Koda's journey serves as a testament to the power of perseverance and passion. Despite facing obstacles early on, he found a way to channel his energy and creativity into something meaningful.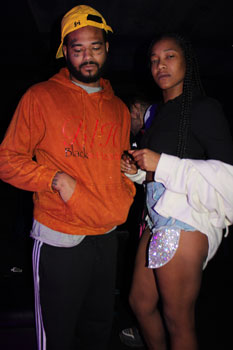 With his talent and drive, KodasWRLD is currently pushing his single "Can't Get Away" (ft. MigiTrax), out via his own entertainment company, JAWNWAY Entertainment LLC. He also owns the clothing brand called Black Hearted. On his latest single, Koda is on solid ground, just as much as he was on his previous single, "Keep Going".
And the reason for that is easily understood. Koda is a versatile artist who can rap smoothly, as well as hold a tune smartly when he needs to. His truth shines through the prism of his true musical self-expression, creating something that sounds natural in any circumstance, regardless of the musical backdrop he is performing on.
Built on a slow and mellow neck-swaying groove "Can't Get Away" (ft. MigiTrax) sees KodasWRLD unfold his infectious singsong delivery, which sits neatly between honest, outspoken lyricism and alluring vocal twists. His flow and wordplay is top tier without even raising a sweat.
Koda's varying rapping cadence and ear for interesting melodic turns really elevate the record. It's equally impossible and exciting to try to define the sound of "Can't Get Away" (ft. MigiTrax), as between the production and the vocals, it slides between multiple genres within a single track.
That said the chemistry between the production and KodasWRLD is undeniable, which makes the combination of two mesmerizing. This also makes "Can't Get Away" (ft. MigiTrax) bright, personal, smooth, stimulating, funky and soulful all at once.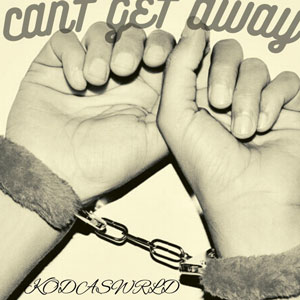 Koda really brought an intoxicating mesh of sound to the table with this one, and it will surely blow up as a result. I know for sure that I will be jamming and cruising to this one for a while. He really is one of those special talented artists with the ear for a quality beat and sound to match his vibe.
"Can't Get Away" (ft. MigiTrax) by KodasWRLD showcases a story of a tumultuous relationship where the protagonist's partner is seemingly playing with his emotions. However, the artist also suggests that he has the power to change the situation, highlighting his desire for control and changing the situation to his advantage.
KodasWRLD continues to assert his dominance in the relationship by expressing his desire for the "cheese" (money) and "tip" (sexual gratification) while disregarding any emotional connection or commitment.
Overall, "Can't Get Away" (ft. MigiTrax) is a song that explores the complex dynamics of a relationship where power and control are primary factors. Koda's lyrics are bold and intense as he conveys the value placed on financial gain over emotional connection. Ultimately, KodasWRLD can be a very technical and profound lyricist, while he also knows how to focus on vibes and grooves, as well as display his sharp, high-caliber vocal deliveries.
OFFICIAL LINKS: INSTAGRAM – SPOTIFY – YOUTUBE

Please follow and like us: