Kae.Kapone is 22 year old upcoming rapper from Augusta, GA. A genuinely adventurous artist, the young man is slowly carving a lane for himself in the game. Running through his catalog, you'll notice that the rapper has already shown the ability to adopt many different styles. His beat switches are typically enjoyable and refreshing. Moreover, listening to his often impressive delivery and savoring the atmosphere in his music, it can be easy sometimes to miss how great his pen can be. In his latest single, "Go On", he brings all those qualities to bear.
Kae.Kapone's resonant voice, equally comfortable rapidly rasping out bars or slowing down to emphasize his message, pairs perfectly with the thick bass, snappy drums, sizzling trap hi-hats and the wobbly, windy keys. "Go On" is urgent and loud, but also smart and idiosyncratic.  Kae.Kapone's voice, too, morphs and changes throughout his songs. It's a versatile, comfortable voice, sometimes with an electrical edge, and sometimes so smooth it's almost deadpan.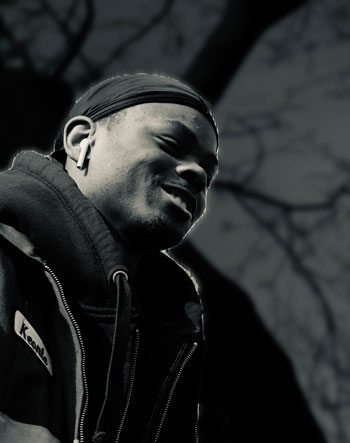 On "Go On" he keeps his voice electric, in a non-stop stream of consciousness flow. When the diverse elements of Kae.Kapone's sound and structure coalesce, the result is a virtuosic, coherent collage of a song. It's best seen on this thriller. Kae.Kapone is clearly a talented songwriter and rapper, who puts his creative fingerprints all over this song.  When his sound meshes, it's totally inventive, like he's writing a new code for modern rap.
"Go On" highlights Kae.Kapone's ability to put together a song that is both catchy, memorable, and hard-hitting in the same breath. It is dark and menacing, seeing Kae.Kapone's rapping about perseverance and success in the game, over a skittering beat.
His capacity to create a unique blend of sounds and ideas, while still retaining a sense of cohesion make him an artist with true lasting potential. He uses every minute, every second of the project to tell the experiences and aspirations of his grind.
In this impeccable release, the Augusta rapper steps, not only out of his comfort zone, but the traditional rules of hip-hop, as he paves the way for his very own lane. While Kae.Kapone's has always been a talented rapper – which can be testified by his 2018 single "O.M.B" – here he is leaps and bounds ahead of where he was just a couple of short years ago.
The two elements that really shine on this effort are Kae.Kapone's unstoppable flow and the production. While every aspect of the single feels like love and effort was put into it, the flow and production feel refreshing.
Even casual rap fans will like this one. "Go On" is a piece of Kae.Kapone revealing a piece of his soul to the public. It's evidence as to what good rap music in 2022 can sound like. His sound is all his own, he finds comfort in staying true to the artist he wants to be. "Go On" is his sound is on full display for listeners witnessing the true power of Kae.Kapone's ability as not only a rapper, but as an artist through and through.
OFFICIAL LINKS:
https://www.instagram.com/kae.kapone
https://mobile.twitter.com/keshaunkelly5
https://open.spotify.com/track/0kEgAtY89fu72rujr7rePW?si=YK9R5P9cQle9y9LBIHW01Q
https://music.apple.com/us/album/go-on/1603333720?i=1603333721
https://soundcloud.app.goo.gl/khWi6FE3D7qr4zC17
Please follow and like us: