Multi-instrumentalist, songwriter, sound engineer, producer and freestyle vocalist, Jud A. Moller (3D) is an unusually left-artist. His multi-genre songs are slapped together by spontaneity and natural evolution, which in turn are fired up by the vibe and feel the composition communicates. Soaked up in reverb, acoustic guitars a drum machine and a solid dose of powerful spirituality, the music on "Unplugged (Acoustic/Freestyle EP 2022)" is devoid of musical pretense, studio gloss, and any excess embellishments that are not essential to the songs themselves. In fact, this recording may sound challenging to any ears that have become accustomed to the pristine, factory produced mainstream releases.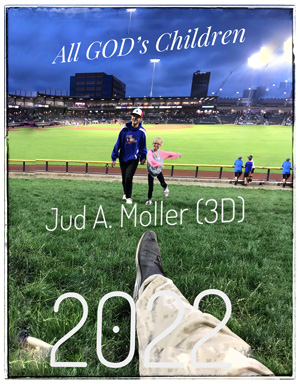 It may also come as a surprise that Jud A. Moller (3D) reaps his influences from acts such as Jimi Hendrix, John Frusciante, Pantera, as well as heavy metal and hard rock music in general. Effectively straddling the space between singer-songwriter and alternative-indie flavors, Jud A. Moller (3D) paints moody, ethereal and echoing soundscapes woven from strumming acoustic guitars and freestyle vocals that twist and turn in melodic loops.
Right from the opening track, "Drifting (acoustic version)", Jud A. Moller (3D) drags the listener down into his musical rabbit hole. Floating on a harmonious melody line, a steady drumbeat, and a simply strummed guitar, the track instantly gives you an insight into his spontaneous and unpretentious recording aesthetic, where the song matters more than the sonic stylistics.  Jud A. Moller (3D) has established his distinctive style while being unafraid to tinker and experiment, eschewing the conventional and the expected.
"Changes" finds Jud A. Moller (3D) looking at those essential crossroads in life when we need to make life-changing decisions. It displays an artist who has the resolve to take the more difficult path if necessary.
Thankfully he never shirks from taking the listener along with him as he uncovers unblinking introspection, and that's what makes these songs so brilliant. Moreover, he comes across as an artist who is consistently, and constantly, looking to grow and evolve.
Even before he unfolds the thoughtful narrative on "All GOD's Children", it steadily becomes apparent that while Jud A. Moller (3D) may be at times an eclectic or complex musician, he is in full control of his craft and knows exactly what he's doing. It may all be freestyle and improvised, but he knows exactly what kind of message and vibe he wants to be sending out through each song.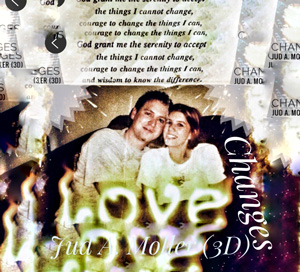 "Goodbye", which is defined by intense soul-searching, showcases the artist's ability to make every sentence, every word spoken, sound essential and heavy with resonance. To the point where it becomes captivating. "Afterlife" utilizes a thicker layer of guitars and vocals for a grittier and bigger sound. The result is utterly compelling, and while it won't be to everyone's tastes, it's an alluring and intoxicating mixture for those with an open palate.
Jud A. Moller (3D) closes the EP with "Peaceful Place", which again features gritty electric guitar interludes, but leans significantly more on its melodic structure and the singer's storytelling. It's the type of narrative that Jud A. Moller (3D) can pour out endlessly and effortlessly.
A bare-boned amalgam of raw sounds, stories, and anecdotes, seemingly put together in an unpremeditated fashion, an EP like "Unplugged (Acoustic/Freestyle EP 2022)" shouldn't work, but it does.
OFFICIAL LINKS: WEBSITE – SOUNDCLOUD
Please follow and like us: