Joe Moore aka J-Luck is originaly from Houston Texas but now resides in Klamath Falls, Oregon . J-Luck is an independent hip hop artist and engineer who has been recording music for over a decade. He uses his craft to narrate his life experiences and his point of view. Signed to Above Reality Records, J-Luck has released 5 albums and a few months back dropped his latest single, entitled "Money, Money, Money" (Produced By Ceasar Beats).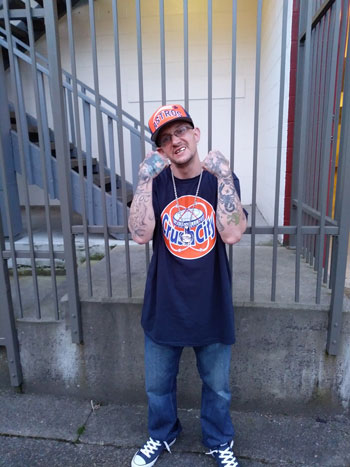 Just as every fire needs heat, fuel, and an oxidizing agent to ignite, every motivational speaker needs a social or economic crisis to inspire and uplift. J-Luck is a rhyme dealer pushing equal parts production heat, lyrical fuel, and an oxygen consuming flow.
The street motivator hardly shies from the task at hand, and thus "Money, Money, Money" hits those reeling from their state of discontent like a ton of bricks, or better yet, a thousand gallons of free gasoline. He comes to our current malaise to remind us of the importance of making money in this society.
J-Luck's lyrics are a dynamic and entertaining celebration of the hardscrabble entrepreneurship and day-to-day grind of street life, and they are backed by the triumphant, synth-bass-and-clap production techniques that were once the hallmark of the rap renaissance.
Here his approach is amplified by significant doses of repeated anxiety: "Money, Money, Money, I need that…Money, Money, Money, I want that… Money, Money, Money, hit that… Money, Money, Money." The track is full of moments of determined uplift in the face of a struggling economy and a declining music industry. J-Luck could well be trying to motivate himself as much as he is motivating us: "Time is money I charge a fee. Dollar signs is all I see…"
His illuminations peer directly at his grind and the need to get the cash rolling in. The track's money-oriented think verses are marvelous concoctions of swagger and street storytelling, all the while forging the kind of hood-repping rap that brought a large part the genre to its popular high-point.
In essence "Money, Money, Money" (Produced By Ceasar Beats) is a highly charged banger where there's a unique pleasure in hearing a rapper deliver It's the kind of track that makes you stop what you're doing and just pay attention to the story that's being told.
Being an underground rapper, the world as a whole might not be paying attention to J-Luck just yet, but he's getting his point across to a dedicated fan base that appreciates him probably more than a mainstream audience ever will.
OFFICIAL LINKS: Keep It Real Inc. – Above Reality Records – Facebook – Twitter
Please follow and like us: