J. Allan Baumann is a songwriter/multi-instrumentalist from Boston, MA. Baumann has been writing music in the pop, rock, alternative and dance genres for about 10 years, with the purpose of serving other artist with songs to use and release. Most of his material is written, recorded and mixed at J. Allan Studios. The latest of his creations is a pop song entitled "Lights". I'm not sure today's music is as reliably catchy as it was – in fact it's easy to think the songwriting ground has been well and truly raked over – but then along comes J. Allan Baumann.
This man has such an individualistic talent: for writing great pop tunes with an anthemic feel. This latest offering doesn't disappoint. If you're searching for something hummable, singable and danceable, or even the opposite, ponderous, Baumann covers all the bases. "Lights" is busy, brash and bouncy.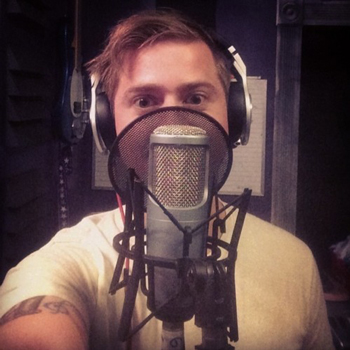 The song is also very catchy and after the third time through you will know most of the words. In a world of non-music today, an occasional talent gives us a new song – a great melody, a good beat and a soaring chorus – what more could you ask for?
"Lights" is a work of significant maturation, a refining of a sound whose brilliance shines in patches throughout J. Allan Baumann's still young catalog. Right from the outset, with this single, it's clear that Baumann is focusing on the groundwork of his songwriting: hooks, choruses, and melodies.
Things like the phrasing on the pre-chorus lyric, and the ascending/descending vocal lines are the infectious, showing Baumann's immense pop aptitude, which has been evident on many of his songs, but most pronouncedly here.
The same goes for the arranging grandiosity that is one of Baumann's unique calling card, and which is better than ever here. Whether introspective, sorrowful, happy or sad, the vibes are always palpable in Baumann's songs. J. Allan Baumann here continues in the aesthetic that has been unfolding over the course of his previous recordings.
"Lights" has a captivating air and is laden with crunchy guitars and hyperactive synth effects to evoke the cascading emotions. There's plenty of thick, textured melody to dig into, while the arrangement also places plenty of emphasis on rhythmic structures.
In a time where electronic musicians seem to spawn from every corner of the world, it's easy for music to start sounding the same without any differentiation between what has merit and what doesn't. In this case, J. Allan Baumann's song is a really great document of how to blend electric and electronic music and make it sound very, very good.
OFFICIAL LINKS: SOUNDCLOUD – INSTAGRAM – TWITTER
Please follow and like us: