Pakistan writer, culture revivalist, internationally acclaimed curator, producer of classical, folk and world music Sharif Awan, was awarded a Gold Medal at the Global Music Awards (California – June 2016) for his 2014 Grammy nominated project  – "Indus Raag – Music Beyond Borders."  The Indus Raag project has now also released "Indus Raag 2 – Karachi Concerts" which contains 36 tracks featuring Indo-Pak classical, folk and world fusion styles which were recorded live in Karachi.
I'm guessing that most people reading this are already familiar with the excellent music on this album. The clarity, warmth, and imaging is some of the best I've heard from any live recording. The music is sophisticated and complex, but also accessible. The imaginative use of percussion and traditional instruments as well as the slick production gives it a sound closer to jazz-fusion and world beat.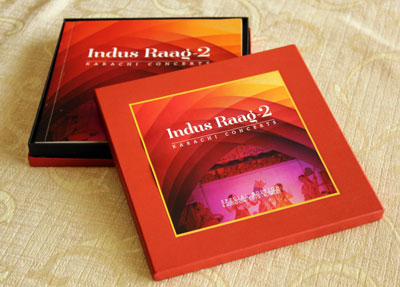 There are also some marvelous compositions and the music is tight without too much self-indulgent soloing.  "Indus Raag 2 – Karachi Concerts" demonstrates an exceptional chemistry among the musicians who produce a groove where disparate parts come together to create a magical portrait of sound.
The tunes are very vibrant, featuring some intricate ensemble playing and also explore the vocal and atmospheric side of things as well. Marvel at Karachi rock band Fozon, on "Sufi Kalam" or Faheem Mazhar on "Kafi Tarani". It took me a few days to fully appreciate this album.
There are so many unique sounds, rhythms, textures, and phrases that western ears are unaccustomed to. I was fascinated by the harmony singing on "Shahana" featuring Mubarak Ali Khan, and in total awe of Ashraf Sharif Khan's sapient sitar on "Darbari".
Another extraordinary performer is Grammy award winner, V M Bhatt who plays the Mohan Veena, a modified version of the Hawaiian guitar, which Bhatt himself created.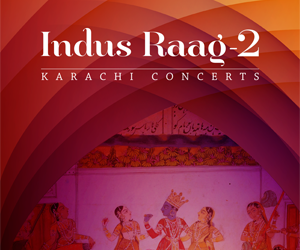 The album also features legendary 'Shudh Bani' singer, Saami, who also performs other elements of classical music like Thumri, Sadra and Kajri. The Gundecha Bros are also present with the track "Bhopali Dhurpad".The two have been performing together publicly since 1985.
Award-winning Pakistani female singer Fariva Pervez also lends her exquisite talents to the project. The album contains a number of interesting artists and compositions that give the recording the feeling (if not the formal unity) of a "suite", an extended journey through varying Indo-Pak musical landscapes.
The international and cultural pedigree of "Indus Raag 2 – Karachi Concerts" based on the rhythms, percussions, melodies and harmonies of this masterwork places it high in the ranks of authentic world music recordings. Each track conjures up distinct visual images, attesting to the mystical and cerebral qualities of these compositions.
The depth of this recording stimulates the intellect as well as the soul. The "Indus Raag 2 – Karachi Concerts" is not only full of brilliant musical performances; it plays as a cohesive burst of Indo-Pak – classical, folk and world fusion creativity. An extraordinary album from beginning to end!
Kalam-e-Faiz – Fariha Pervez from Indus Raag on Vimeo.
OFFICIAL LINKS: WEBSITE – FACEBOOK – SOUNDCLOUD – VIMEO
Please follow and like us: