Atmospheric and immersive, rhythmic and expansive, the self-titled album "Horny Cricket" exhibits the creative force of the contemporary music scene. It's emotive and contemplative approach, notwithstanding the energy produced, is enchanting, and it shows how Robert Beshara aka Horny Cricket – an Egyptian composer and recording artist from Cairo, who is currently based in Santa Fe, NM. – is able to bring out the best of his influences. Spanning styles and sounds, Horny Cricket stretches in different ways to create an impressive and profound electronic based work. From the get-go, you realize that Beshara, who is also an academic specialized in critical psychology, is cut from a different cloth than that of his peers or contemporaries. Drawing on the vigor of electronic jams, hip-hop beats, and alternative forward-thinking melodies, the record is never monothematic and helps to paint an encompassing musical atmosphere.
Horny Cricket has been doing music since 2000, when he began playing the drums in high school. He subsequently went from being, what he himself calls a "subpar drummer to being a decent songwriter". He learnt to play the guitar along the way, thanks to his sister leaving an acoustic lying around the apartment. Beshara was then introduced to the Cakewalk DAW, before he eventually progressed to Pro Tools and then Logic.
Horny Cricket soon became part of the underground art scene in Cairo, during which time he wrote hundreds of songs, but mostly for archival purposes. He also composed music for plays and films, as well as releasing a number of DIY albums. However, he considers "Horny Cricket" – most of which was composed during the pandemic – as his first official release.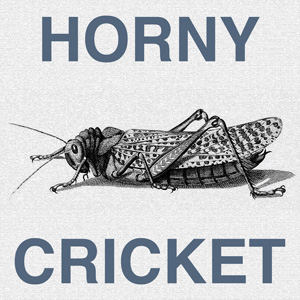 "As a trauma survivor, music has always been a safe space of healing for me," states Horny Cricket. "My dream is for my music to not only be sonically enjoyed by others, but also for it to be a therapeutic experience for others as it is for me." A masterclass of independent musical prowess, where resources are generally limited, "Horny Cricket" unfolds a broad palette of instrumental music with a generous dose of vocal interludes as well.
The songs on the album teem with energy and vibrance, styled by the stunning use of classic synth sounds. The tracks, individually, are highly engaging on a sonic level, but it's when the collective listening experience kicks in, that it becomes even more mesmerizing as you unpack the complexities of the work in it's entirety. Give it a couple of listens. Let it marinate. With each play, you grow more appreciative of Horny Cricket's need for exploration and the music's emotional pull.
"Horny Cricket" is a real journey, from the moment it launches with the "Opening" track. You can hear how its creator's musical chemistry unravels itself track after track, through standouts like the dark and rhythmic "Simian", the eclectic vocal track "Whitey on the Moon (ft. Sigma Strange)" and "Stop Asking For More", or the haunting "Moonlit Sonata" and the stunning "TOE". The list of stellar tracks is endless, as each cut brings something different and interesting to the table. The deluxe version of this album contains 26 tracks and provides an epic listening experience.
As new electronic propositions go, this album, mastered by Joshua Stevenson, is as intriguing as any you may care to mention. The intrigue lies in how the more mainstream synth sounds of Horny Cricket gels with the expansive freedom of his creative background, and it is a delight to discover that they bond beautifully.
The main focus is on the musicality, but the vocals add an inspiring twist to the proceedings on certain tracks, as they are never banal. Horny Cricket injects everything with atmosphere and energy, never letting things settle on an easy path. His music is an intrepid and invigorating adventure in sound, bursting with inventiveness.
OFFICIAL LINKS: BANDCAMP – TWITTER
Please follow and like us: